Postmodern Jukebox
The Grand Reopening Tour
---
Saturday, May 7, 2022
7:30pm // Atwood Concert Hall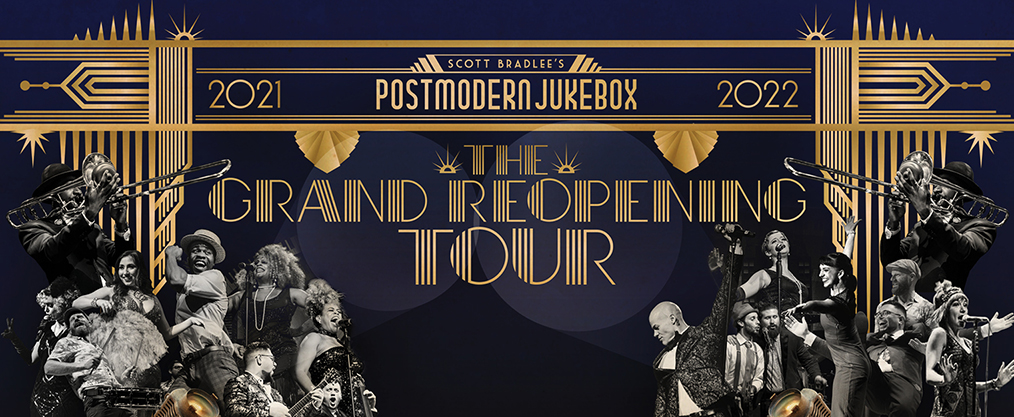 Now that's what I call vintage! Postmodern Jukebox, the time-bending musical collective known for putting "pop music in a time machine," is set to make the '20s roar again with the most sensational party this side of The Great Gatsby. In less than a decade, Postmodern Jukebox has grown from creator Scott Bradlee's tiny apartment in Queens to a worldwide phenomenon, performing in 60 countries and amassing zillions of YouTube views (probably not but who's counting).
After dazzling Anchorage with sold-out shows in the Before Times of 2015 and 2017, PMJ's rotating squad of multi-talented musicians claps back with The Grand Reopening Tour, thrilling music-starved audiences with some of modern music's biggest hits in the classic styles of bygone eras. Think Billie Eilish's "Bad Guy" transformed into a tango, Lizzo's "Good as Hell" as a flapper anthem, and "My Heart Will Go On" revamped into a 1950s Jackie Wilson track.
So dust off your turntable, fix yourself a drink, and make music history – right here in Anchorage.
TYPE OF EVENING:
Vintage date night
Welcome to the Twenties 2.0
WHAT TO EXPECT:
Genre-busting, time-traveling musical experience
Old Hollywood New Year's Eve bash
COME WITH:
A top hat on fleek
Speakeasy style and 21st century sass
Anchorage Concert Association and CenterTix box office are the only authorized sellers of tickets to this show.