Che Apalache
A banjo and mandolin tango? Yes, please.
---
Friday, Sept. 20, 2019
7:30 p.m. // Discovery Theatre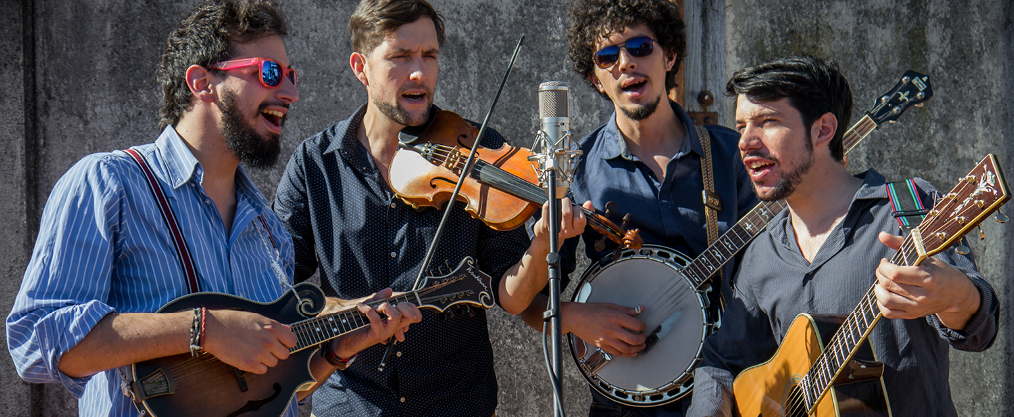 Che Apalache represents a culture clash gone right. They're a four-man string band based in Buenos Aires, with members from the U.S., Mexico, and Argentina. Singing in Spanish and English, they perform everything from bluegrass standards to Latin roots music, and originals that blend the best of both.
A banjo and mandolin tango? Yes, please. Evoking images from Appalachia to the Andes, their debut, "Latingrass," is a testament to the power of cultural and musical exchange, and it instantly won over banjo master Béla Fleck, who produced their latest, chart-topping album.
Their instrumental prowess and tight vocal harmonies invite you to step back in time while retaining a sense of timelessness. Discover a new sound blend that'll have your toes tappin'.
"Americana artist you need to know" – Rolling Stone
TYPE OF EVENING 
Folky music night
Latin bluegrass fusion
WHAT TO EXPECT 
Southern charm from the American South and South America
Joyous music bridging the best of two hemispheres
COME WITH
Musical passport ready for multiple stamps
Pronounced as CHAY-op-uh-LAH-chay
"This is a band to watch!" — Béla Fleck
Special Performance Sept. 19
Come to Anchorage Concerts All Access, a celebration of the arts with wine, and music, for a special guest performance by Che Apalache on Thursday, Sept. 19.
Join us for a short performance and conversation with Che Apalache Friday, Sept. 20, at Loussac Library Ann Stevens Room from noon-1 p.m. Hosted by Indra Arriaga and Rosa Sanchez. This event is part of Anchorage Welcoming Week. Free.

Pre-show talk
Enjoy a free pre-show talk in the theatre Friday, Sept. 20, 6:30-7 p.m, with Indra Arriaga and Rosa Sanchez. You do not need to be a ticket holder to attend.