Ensemble Mik Nawooj (Cancelled)
Hypnotic hip-hop orchestra
---
April 4, 2020 (Cancelled)
7:30 p.m. // Discovery Theatre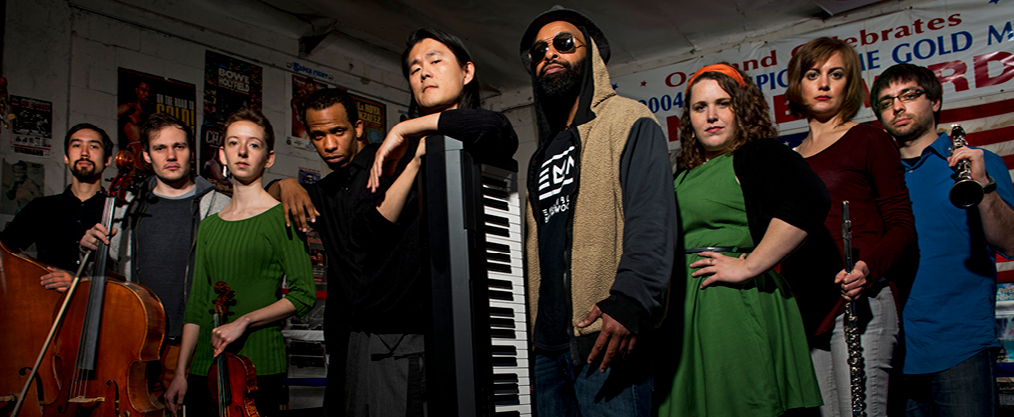 Show Cancelled
Due to COVID-19 in Alaska, Anchorage Concert Association has cancelled several spring performances, including this one. The health and safety of our audiences, artists, volunteers, and community are a priority.
We invite ticket holders to consider converting your tickets into a donation in lieu of a refund, thereby supporting Anchorage Concert Association and the artists impacted by this cancellation.
We appreciate your support and will work with you on options. Learn more about options.
Thank you for your understanding and patience. We look forward to seeing you at the theatre again when this crisis is over.
Turn my tickets into a donation
---
Classical hip-hop, hip-hop opera, hip-hopera – whatever you want to call it, it sounds incredible. Oakland's Ensemble Mik Nawooj, led by composer/pianist JooWan Kim, subverts expectations with a multi-genre crew of flute, clarinet, violin, cello, drums, bass, an opera singer, and profound rhymes from mesmerizing MCs/lyricists Do D.A.T. and Sandman.
Combining classical techniques and method sampling, EMN creates awe-inspiring arrangements that have been called "the cutting edge of hip-hop" (Huffington Post). It's a mashup of the oldest old-school and the marvelously modern, resulting in a kinetic energy of "textures swimming through the sound ... like the world's fastest ping-pong game" (Pitchfork).
Immerse yourself in the beat and beauty of music that both breaks you open and makes you whole.
TYPE OF EVENING 
The future of hip-hop
Like nothing you've heard before
WHAT TO EXPECT 
Magnetic scores and riveting rhymes that bridge ages, cultures, and experiences
COME WITH
Stereotypes ready to be shattered
Anchorage Concerts' presentation of Ensemble Mik Nawooj received support from Alaska State Council on the Arts, WESTAF (the Western States Arts Federation), and the National Endowment for the Arts.


Anchorage Concert Association and CenterTix box office are the only authorized sellers of tickets to this show.