The Improvised Shakespeare Company
Mirth made in the moment
---
Friday-Saturday, Oct. 11-12, 2019
7:30 p.m. // Discovery Theatre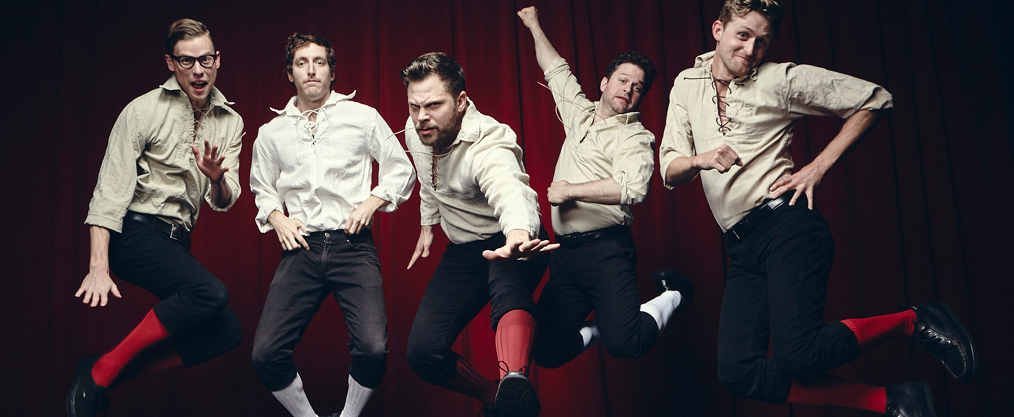 No script. No plot. No rehearsal. And no limits on laughter. The Improvised Shakespeare Company® takes a suggested play title from the audience, and then improvises a two-act Shakespearean masterpiece before your eyes. It's an on-the-spot, spot-on reinvention of old school … as in the 17th century.
Using Elizabethan styles and The Bard's classic themes, the troupe fashions a careening story with musical interludes. Plots could feature star-crossed lovers, sprites, fools, sword-play, and plenty of witty insults. Each performance is both a world premiere and a closing night.
So, attend ye, gaze yonder at the stage, and trust all's well that ends well.
TYPE OF EVENING 
Smart, sophisticated and downright hilarious
Off-the-cuff comedy night
WHAT TO EXPECT 
Sidesplitting Shakespearean fun, created before your eyes
COME WITH
Thine love for all things frivolous and fine
"Smart, sophisticated, downright hilarious." -TimeOut Chicago
"One of the most reliably clever and funny improv troupes in the country" -The New York Times
Pre-show talk - Saturday performance
Enjoy a free pre-show talk in the theatre Saturday, Oct. 12, 6:30-7 p.m, with local Shakespearean expert Teresa Pond. You do not need to be a ticket holder to attend.
Holding a BFA in Communications from Chapman University and an MFA in Directing from University of California Irvine's prestigious Claire Trevor School of Arts, Teresa has directed professionally Off-Broadway, regionally, and internationally. She has worked with New York Classical Theatre, Vital Theatre Company, and the NY Fringe Festival and also previously served as the Executive Director of Anchorage Community Theatre. She has served on arts councils, development groups, and other committee associations; locally in Anchorage she has collaborated on and off stage with organizations such as Perseverance Theatre, ACT, ATY, Alaska Native Heritage Center, Alaska Dance Theatre, UAA Department of Theatre, Out North Theatre, and worked with several nonprofit and charitable groups in a variety of roles.