LowDown Brass Band
Summer Concert Series
---
Friday, August 6th 7pm, 2021
7pm // Russian Jack Springs Park
Sponsored By: UBS Financial Services Inc.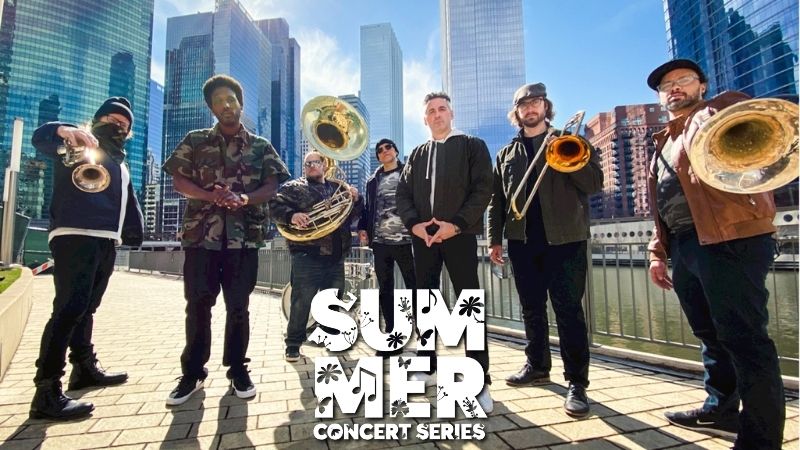 We are excited to announce an addition to our free Summer Concert Series! The LowDown Brass Band is coming up from Chicago to perform at Russian Jack Springs Park on August 6th at 7pm.

The LowDown Brass Band is a uniquely strong representation of Chicago Music culture. This talented all horn band leans heavily on dancehall and street beat rhythm, with the energy of conscious hip hop, jazz, reggae, and soul. Following an ambitious project titled LowDown Sounds, that included a critically acclaimed cameo by Roy Ayers on the track Everybody Loves The Sunshine, LowDown Brass Band is now touring their 2018 hip hop release titled LowDown Breaks featuring MC Billa Camp. This new record steps deeper into refining their unique sound, combining hip hop breaks with live soul samples and deep cut grooves.
Fresh off their headlining set at The 2019 Montreal Jazz Festival, LowDown maintains a constant performing and touring schedule throughout the globe. Recent performances include the Chicago World Music Fest, Vancouver Jazz Fest, Lagunitas Beer Circus, Chicago Jazz Fest, Vermont's Frendly Gathering, Alaska's Salmon Fest, Chicago's Do-Division Fest, Wicker Park Fest, Wakarusa, and China's Cotai Jazz Fest.
This show is sponsored by UBS Financial Services Inc. The ongoing Summer Concert Series is supported in part by a generous donation from The Atwood Foundation.