Music City Hit Makers (Cancelled)
Legendary songwriters perform with the symphony
---
Friday, March 13, 2020
7:30 p.m. // Atwood Concert Hall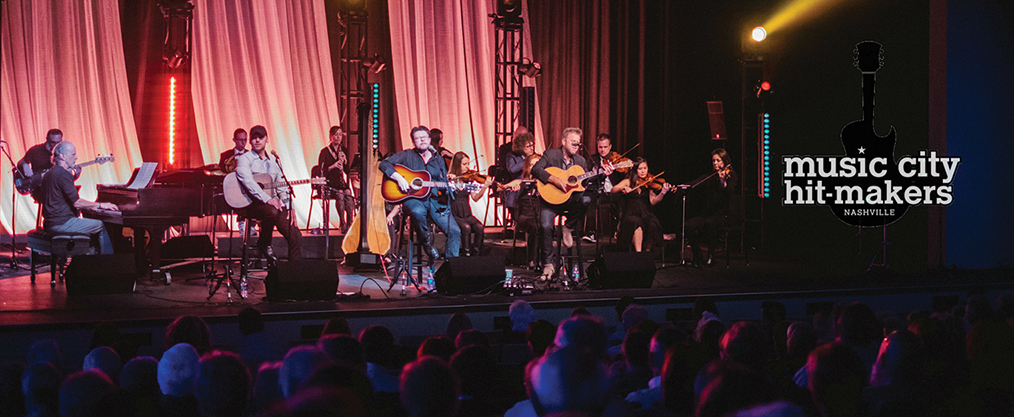 Show Cancelled
Due to COVID-19 in Alaska, Anchorage Concert Association has cancelled several spring performances, including this one. The health and safety of our audiences, artists, volunteers, and community are a priority.
We invite ticket holders to consider converting your tickets into a donation in lieu of a refund, thereby supporting Anchorage Concert Association and the artists impacted by this cancellation.
We appreciate your support and will work with you on options. Learn more about options.
Thank you for your understanding and patience. We look forward to seeing you at the theatre again when this crisis is over.
Turn my tickets into a donation
---
The Songs, Their Stories, A Symphony
You know these songs by heart. You sing along with them in the car at the top of your lungs.
What you don't know are the stories behind them. Music City Hit Makers is part storytelling, part comedy, and all country with 15 #1 country songs performed by the songwriters themselves.
"If they sing it, they wrote it." In the tradition of songwriters-in-the-round made famous by Nashville's Bluebird Café, you'll hear the hits of some of Nashville's biggest superstars -- with a symphonic twist featuring musicians from Anchorage Symphony Orchestra.
The songwriters coming to Anchorage have penned songs made famous by Garth Brooks, Tim McGraw, and Brad Paisley. Lee Thomas Miller had hits with "Whiskey and You" (Chris Stapleton) and "In Color" (Jamey Jonson). The Warren Brothers' hits include "Anyway" (Martina McBride), "The Lucky One" (Faith Hill), and "Red Solo Cup" (Toby Keith).
With a combined 150+ #1 hits, scores of Grammy, CMA, and ACM Awards, and three Hall of Famers, Music City Hit Makers likes to call their roster of songwriters "The Most Famous People You Never Heard Of."
TYPE OF EVENING 
Legendary songs and songwriters
A peek into the writer's studio
Country music night
Nashville night in Alaska
WHAT TO EXPECT 
Stories behind your favorite hits
COME WITH
Your cowboy boots and best blue jeans
Online subscriptions for this show are now closed. Call Anchorage Concert Association for options to include this show in a subscription of three or more shows: 907-272-1471.
---
Some of the hits by Lee Thomas Miller
Whiskey And You - Chris Stapleton
In Color - Jamey Johnson
You're Gonna Miss This - Trace Adkins
I'm Still A Guy - Brad Paisley
It Ain't My Fault - Brothers Osborne
Southern Girl - Tim McGraw
Days of America - Blackhawk
That's Cool - Blue County
People Loving People - Garth Brooks
I Just Wanna Be Mad - Terri Clark
Men Don't Change - Amy Dalley
Good Kind of Crazy - Amy Dalley
Nothin' to Die For - Tim McGraw
---
Some of the hits by The Warren Brothers
Anyway - Martina McBride
The Lucky One - Faith Hill
The Highway Don't Care – Tim McGraw and Taylor Swift
Red Solo Cup - Toby Keith
Feel That Fire - Dierks Bentley
Felt Good on My Lips - Tim McGraw
Little Bit of Everything - Keith Urban
Drink to That All Night – Jerrod Niemann
Every Time I Hear That Song – Blake Shelton
If You're Reading This – Tim McGraw
Lights Come On – Jason Aldean
Sober Saturday Night – Chris Young
Wrong Baby Wrong Baby Wrong – Martina McBride
---
Anchorage Concert Association and CenterTix box office are the only authorized sellers of tickets to this show.