The New Standards Holiday Show - Canceled
The not-so-standard holiday party
---
Friday-Saturday, Dec. 13-14, 2019
7:30 p.m. // Discovery Theatre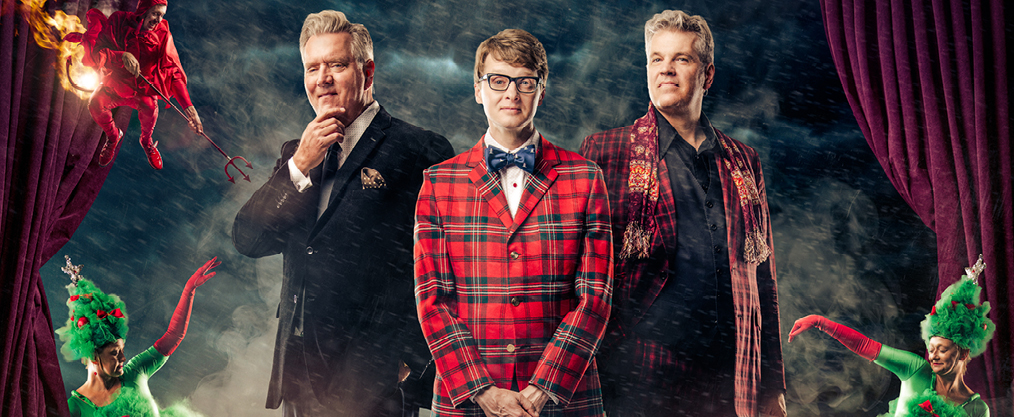 CANCELED - Due to health reasons, The New Standards have to cancel their shows in Anchorage Dec. 13 & 14. We regret that we are unable to reschedule at this time and hope you'll join us in sending them healing thoughts from Alaska. We look forward to working with them again in the future.
Dear friends and supporters,
After undergoing a more serious surgery that has affected my voice, I'm going to have to postpone getting back onstage. No one is sorrier than me having to cancel shows, and I am counting the days until I can get back to work. My doctors and caregivers all assure me that day will come, and we will celebrate then. I appreciate your understanding and ask for privacy and healing thoughts at this time.
Chan Poling, The New Standards

Ticketholders will be automatically refunded their original form of payment the week of August 12.
If you'd like your refund sooner or if you haven't seen a refund by August 26, please give us a call at (907) 272-1471. For more information, please call (907) 272-1471.
---
If you crave Christmas spirit but feel traditional fare has lost its luster, then The New Standards are the answer. This is a fearless and funny night out for the evolved music lover who embraces all musical styles and eras – and also has discriminating taste.
Ringleaders Chan Poling (The Suburbs), John Munson (Semisonic), and Steve Roehm (Billy Goat) cross-pollinate sardonic rock/pop aesthetic with surprise Alaska guest stars. The result is quirky beauty. With true post-genre attitude, they take on the likes of Adam Ant, Britney Spears, Kurt Weill, and Cheap Trick, connecting everything to the Christmas core of goodwill and gratitude.
So if you'd appreciate a big band version of "God Rest Ye Merry Gentlemen" AND disco dancing Christmas trees, join this rockin' party and ring in the yule with style.
TYPE OF EVENING 
Tradition with a twist
Holiday date night
WHAT TO EXPECT 
A stylistically loose Christmas party full of surprises
COME WITH
An escape from your normal holiday experience