PUBLIQuartet
Classically spontaneous
---
Saturday, March 7, 2020
7:30 p.m. // Discovery Theatre
Sponsored By: Joanne and Brian Bennett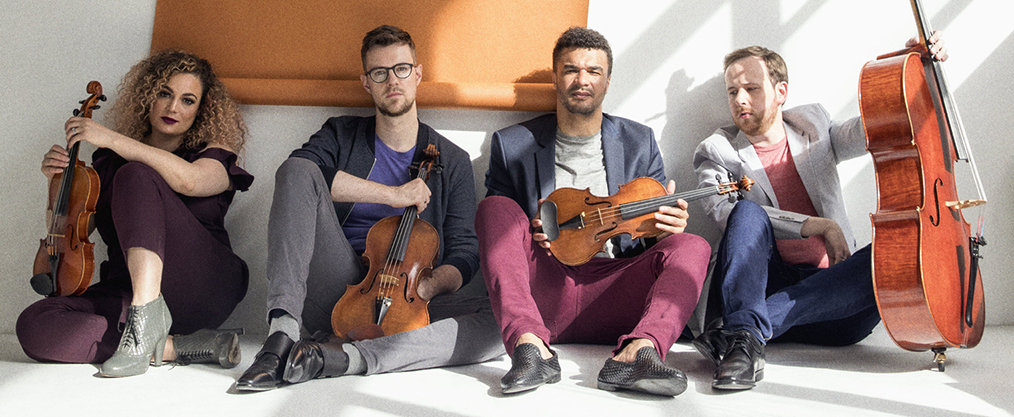 The members of PUBLIQuartet — whose diverse tastes span classical jazz, improvisation, and world music — play their instruments with a passion for showing audiences something new. With technical mastery and freewheeling joy, the young string players have appeared everywhere from Lincoln Center and Carnegie Hall to The Late Show with Stephen Colbert, where they performed a 90-minute improvised soundtrack to a live presidential debate.
The genre-bending foursome is committed to supporting emerging composers, amplifying marginalized voices, and drawing attention to today's issues. Their programs feature a wide variety, from 20th-century masterworks to newly commissioned pieces. Audiences especially love PUBLIQuartet's MIND|THE|GAP series of re-imaginations of classical themes where the musicians' skills are featured in open-form improvisations.
Save your seat and hear the future of chamber music take shape in front of your ears.
TYPE OF EVENING 
Innovative and compelling
Classically eclectic
Music date night
WHAT TO EXPECT 
A perfect encapsulation of today's trends in chamber music
COME WITH
A nod to the past with a confident step into the future
"Magnetic momentum and energy…innovative music making without any condescension or compromise." -Feast of Music
SPONSORED BY
Wells Fargo
Joanne and Brian Bennett
---
Online subscriptions for this show are now closed. Call Anchorage Concert Association for options to include this show in a subscription of three or more shows: 907-272-1471.
"...a respectful acknowledgment of the past and confident step into the future...the adventurous PUBLIQuartet..." - The New York Times
Grammy Nominated!
The second album from the intrepid string quartet PUBLIQuartet, "Freedom & Faith," was nominated in four categories for the 2020 Grammy Awards:
Best Chamber Music/Small Ensemble Performance: PUBLIQuartet
Best Contemporary Classical Composition: Jessica Meyer: Get Into The Now
Best Engineered Album classical: Ryan Streber
Producer of the Year, classical: Louis Levit
---
Anchorage Concert Association and CenterTix box office are the only authorized sellers of tickets to this show.