One Man Star Wars® Trilogy
One man to do it all
---
Saturday, Apr. 6, 2024
2pm // Discovery Theatre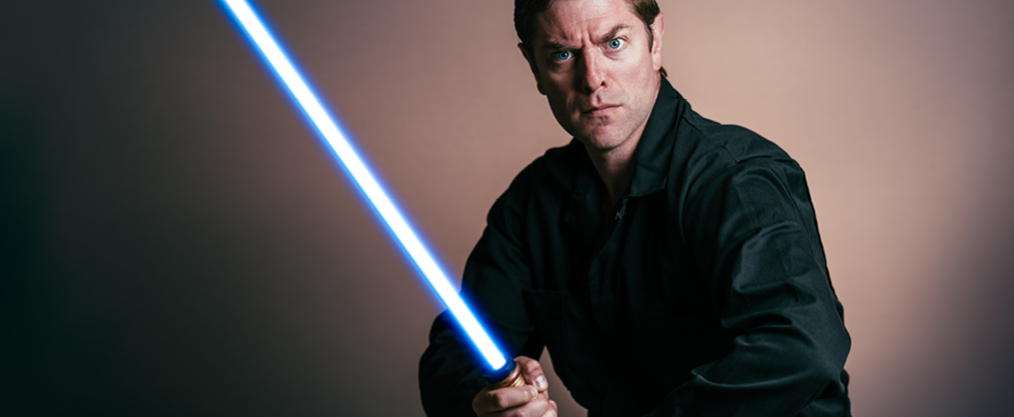 Subscribe and save! Subscription tickets start at $36.
After sold-out performances in 2017, Canadian actor and uber geek Charles Ross returns to Anchorage with his solo madcap creation One-Man Star Wars® Trilogy in addition to One Man Stranger Things and One Man Lord of the Rings. In this mind-bending whirlwind, Ross retells the classic bad hair trilogy in just 60 minutes – no costumes, no props, no sets – and plays all your favorite Star Wars characters with spot-on impressions.
Combining a 5-year-old's imagination and energy with a seasoned actor's skillset, he sings the music, flies the ships, and fights the battles. "A one-man reenactment of Star Wars is nerdier – and funnier – than you can possibly imagine!" (Spin Magazine). Get your nerd on and experience the global sensation loved by audiences from London's West End, Lucasfilm, and Charlie's mom.
May the farce be with you.
TYPE OF EVENING:
Movie Night with a Twist
Comedy night out
Sci-fi shenanigans
WHAT TO EXPECT:
A sidesplitting show suitable for ages Young Anakin to Yoda
Rapid-fire recap of a galaxy far, far away
One man, no costumes, no props – and funnier than you can imagine
COME WITH:
Your favorite geek-at-heart
Leia hair or an Obi-Wan robe
Aspiring Jedis of all ages
One Man Star Wars Trilogy is performed with permission of Lucasfilm Ltd. All 'Star Wars' elements property of Lucasfilm Ltd. All rights reserved.
---
Anchorage Concert Association and CenterTix box office are the only authorized sellers of tickets to this show.