International Guitar Night 2018
The world on a string
---
Friday, March 2, 2018
7:30 pm // Discovery Theatre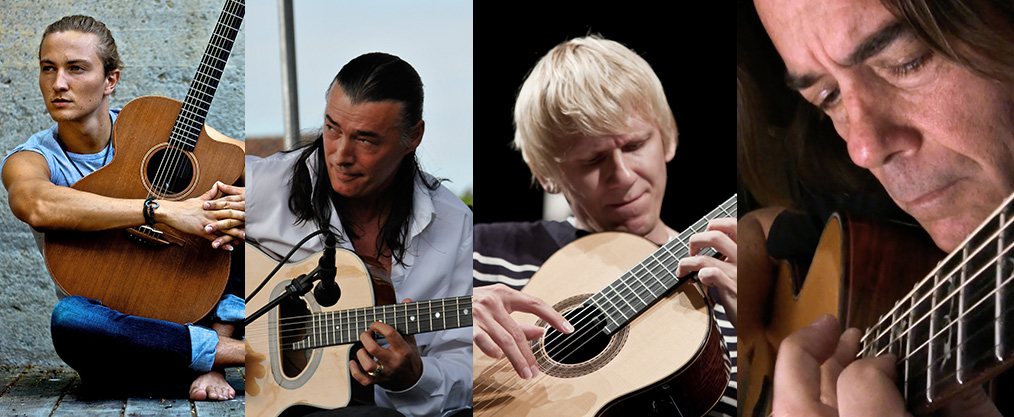 An annual, mobile guitar festival sponsored by Acoustic Guitar Magazine, International Guitar Night started in California more than two decades ago. Each year different guitar luminaries collaborate for original evenings of solos, duets, and quartets that highlight virtuosity and diversity in the acoustic guitar world. Lulo Reinhardt, the great-nephew of gypsy jazz legend Django Reinhardt, hosts the musicians' circle and contributes his own Latin Swing-style to the mix. On stage he's joined by Canadian prodigy Calum Graham, Polish classical guitarist Marek Pasieczny, and the American national fingerstyle champion Michael Chapdelaine. Don't miss this veritable United Nations of guitar phenoms, a combination sure to result in a beautiful blend.
TYPE OF EVENING 
Music Appreciation Master Class
Wow-Factor Date Night
WHAT TO EXPECT 
Gifted guitarists who'll leave you feeling inspired (and maybe a little talent-envy)
COME WITH 
Your bags packed for a musical escape
New seats available! Contact CenterTix box office for more information: 907-263-2787.

Pre-Performance Talk
6:30 p.m. Friday, March 2, Discovery Theatre
Enhance your experience with a presentation before the show. Dr. Armin Abdihodžic is praised as one of the most promising Bosnian guitarists of the coming generation. In his career, Dr. Abdihodžic performed solo and chamber concerts all over the world (Brazil, Croatia, Bosnia & Herzegovina, USA) and participated in many competitions. For the past four years, Dr. Abdihodžic has served as one of the instructors for the Summer Guitar School in Karlovac, Croatia. He is currently serving as an assistant professor in guitar at the University of Alaska Anchorage. Free. You do not need to be a ticket holder to attend this talk.