Education
---
In-School Visits
Anchorage Concert Association provides a select group of visiting artists who are available for in-school visits. The fee for a visit is $250 and can be anything from an all-school assembly to a more intimate visit with a music class. Visits will be based on the artist's offerings, your school's needs, and subject to the artist's schedule.
If you are interested in having an artist visit your class or school, please email James Fredrick, Community Engagement Director, with your interest.
We try to visit as many schools as possible in a season. If there is more than one artist you are interested in having to your school, please let us know your top preference.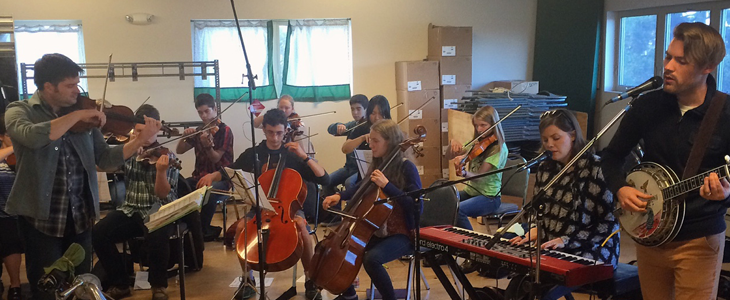 ---
In-theatre performances for schools
Some seasons, the Anchorage Concert Association also offers school performances at the Alaska Center for the Performing Arts. These shows, which are offered at an extreme discount, are open to all public, private, and charter schools as well as home-schools and other school groups. Shows are usually one hour in length.
There are no in-theatre performances for schools scheduled for the 2019/2020 school year. For more information, please email info@anchorageconcerts.org
Basic Registration Information
Prices for all shows are $8/person, including students, teachers and chaperones. An early payment discount of $1 off per ticket ($7/person) is available by paying at least four weeks in advance of the performance, at least one week before the final payment deadline.
Buses: If you are within ASD boundaries and have requested a bus, we will be ordering buses just after the payment deadline. Bus pick up times will be emailed to you as soon as we receive them back from the bus company. We will order buses for groups of approximately 55 people. If you do not have that many students and need a bus, we do our best to partner you with another school. In cases where your bus may be overcrowded by a few people, we ask that you arrange for a small group to drive separately to the performance.
Payment: We do not require a deposit at the time of registration. Final attendance numbers and payment are due no later than three weeks before the performance. An early payment discount is available if we receive your payment by 5pm on the dates announced as the "early payment" deadline. If you are sending a check, the check should be postmarked by this date. We will send multiple payment reminders via email to remind you of these dates. We accept Visa/Mastercard only. Make checks payable to Anchorage Concert Association.
Refunds/Cancelations: Refunds cannot be given after the final payment deadline, three weeks before the show date.
Scholarships: A limited number of scholarships are available for low income students and can be requested at the time of registration.
Venue: All shows are at the Alaska Center for the Performing Arts in either the Atwood Concert Hall or the Discovery Theatre.
---