Community Artist Project
---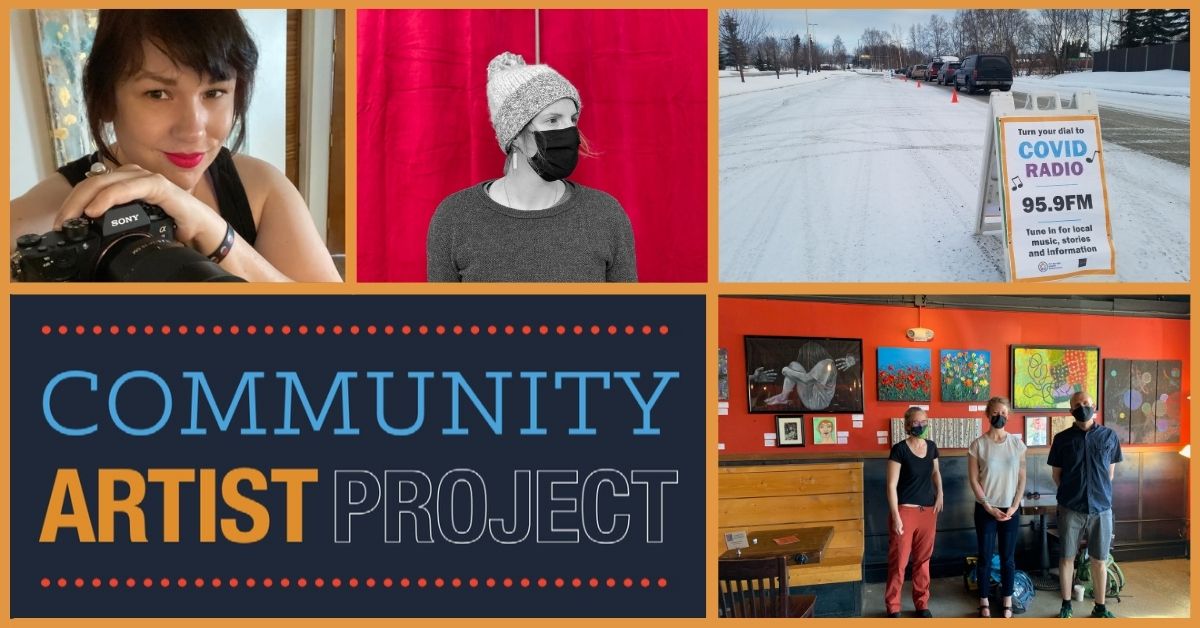 bE A PART OF THE STORY
Anchorage Concert Association (ACA) seeks local artists, culture makers, and heritage holders to participate in a short-term project that will utilize arts events or activities to connect communities. We are seeking projects designed between artists and a community partner (or organization) that can make a meaningful impact on our community.
APPLY TODAY
CHECK OUT PAST PROJECTS
These projects are meant to:
Be short term (three to four months)

Identify underlying social issues where artists + a community partner can co-create a project that address these issues through art

Engage artists with specific communities and their representative organizations.
Initiative Description
Since 2015, ACA has been developing community engagement through the framework of the civic practice model, initially working with the Center For Performance And Civic Practice. This framework is an arts-based, community-led process that allows artists and communities to co-design projects for greater impact.
Anchorage Concerts seeks Alaskan artists to develop a short-term and immediate project that, while following municipal health recommendations, builds community and provides opportunities for Anchorage residents to experience the power of the arts. The framework for this work will include: an artist (or artist team) + community partner + Anchorage Concerts team. Selected artists will work with Anchorage Concert Association's Community Collaborator to develop an arts-based activity that works to build cross-sector collaboration with a community partner.
Each project will have three key participants:
Community Partner - an organization representing a specific community in Anchorage

Alaska based artists - an artist that identifies with the Community Partner's specific community.

Anchorage Concert Association - serving as facilitator, logistician, and amplifier.
The Alaska based artists will work with the Community Partner's constituents to uncover issues and address them through art, co-created with that community.
The Community Partners can be non arts organizations, municipal partners, nonprofits, or other community based organizations that represent and serve a specific community.
Anchorage Concert Association's primary role is facilitator. With support from other staff ACA's Community Collaborator, will facilitate the dialogue between artists, partners and community. They will also consult on the creative process. ACA also brings two traditional resources of a performing arts presenter: our ability to coordinate artists, production elements, and personnel as well as our large communications platform from which to capture and communicate these stories to specific and more general audiences.
The central questions for artists to consider
(This list is a guide, you do not have to answer every question to be considered):
What community partner or community will your project collaborate with?
How can we work together with and in these communities to determine and address a need through the arts?
How do we engage communities in deep and meaningful ways that also follow municipal health recommendations?
How do we address communities' access (or lack of access) to technology?
How can we implement this project quickly?
If our solution is virtual, how can we encourage participation and build community?
Initiative Details
Application Open - June 4, 2021

Application Deadline - July 7, 2021

Project Timeline - July 16, 2021 - November 16, 2021*​​​​​​​​​​​​​​​​​​​​​ ​​​​​​​​​Project timelines may vary with events happening only once or could expand over the entire time frame.

Workspace - Artists will be responsible for their own workspace and should follow any municipal health recommendations throughout the project.

Planning - Artists will coordinate with Anchorage Concert Association staff and other community or neighborhood members to determine community needs and discuss goals and deliverables. The project is open to any media or form but should follow a civic practice model where the artist and community co-design the arts and culture-based intervention.

Additional Support - As a partner in these projects, ACA staff will work with each artist to determine needs for additional support. This may include but is not limited to; technology, space use, materials and supplies, translation or interpretation, community connections, marketing, budgeting, etc.

Evaluation - At the end of this project, artists will submit a brief report detailing how funds were used, how the project addressed the stated challenges, and measurable outcomes.
Is This Project Right For You?
Anchorage Concert Association seeks local artists whose creative practice reflects a desire to work collaboratively and within a community context.
Do you bring a creative and/or cultural practice to your work?
Can you engage diverse groups of people to participate in a community project?
Can you connect groups in dialogue and conversation in non-traditional ways?
Can you identify and cultivate creativity in others?
Can you develop and execute creative projects in which the community is an active collaborator?
Can you work with people from diverse backgrounds?
Can you effectively manage projects and partnerships?
Are you interested in expanding your practice and gaining the skills necessary to do so?
Eligibility
This call is open to all Alaskans for projects that will occur within the Municipality of Anchorage
Applicants must be able to receive taxable income in the United States regardless of their citizenship status.
Project budget / Payment schedule
The total project budget is $2,500. Applicants will be asked to provide a brief outline of their project budget in the application.
Payment Schedule
​​​​​​​50% of these funds will be dispersed at the start of the project.
50% will be paid at the conclusion.
Payment schedule is flexible depending on project scope and needs.
Application
Applications can be submitted electronically through the form at the top of the page. Additional support can be requested by emailing Community Collaborator, Becky Kendall at bkendall@anchorageconcerts.org
Questions?
Contact Becky Kendall at bkendall@anchorageconcerts.org