Community
---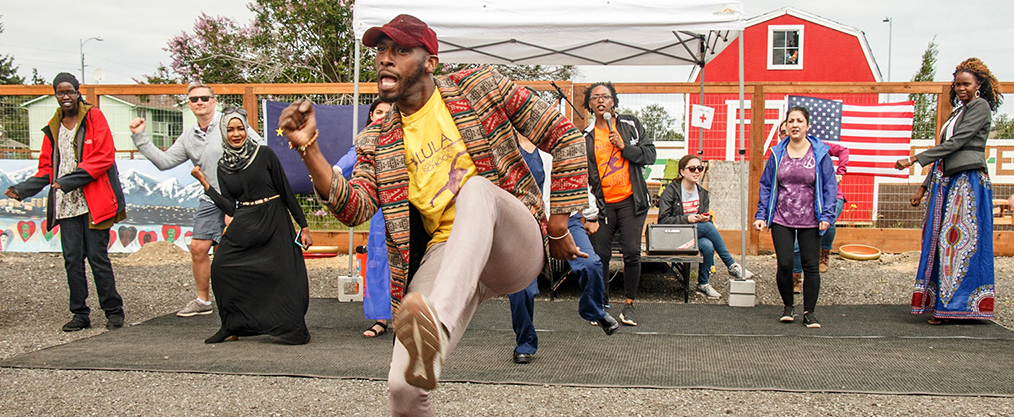 Community Events
In addition to bringing world-class performances to Alaska, Anchorage Concert Association visiting artists connect with our community through workshops, house concerts, secret shows, and other events.
Anchorage Concert Association also offers opportunities for Anchorage-area students to enjoy the arts. Artists visit schools and hold field-trip style performances for students at the theatre.
Our priority is to make our community a place with great access to the performing arts.
Community News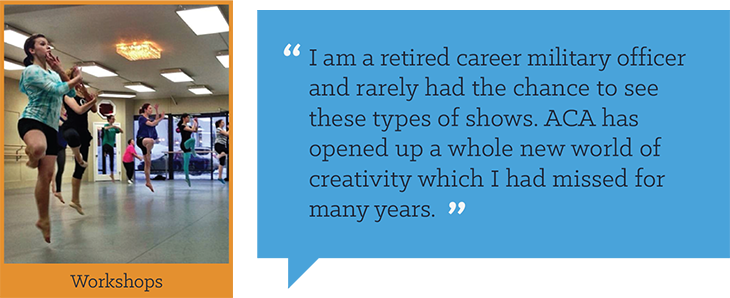 Inspiring community
Nearly 10,000 youth and adults participated in outreach events in 2017/2018 season
Hundreds of underserved students participated free of charge
5,300+ tickets donated to nonprofit social service organizations and their clients
90 local youth dancers in annual Nutcracker performances
29 different artists in the 17/18 season
Nearly 70,000 tickets sold
Wide array of diverse shows, from emerging bands to the biggest names on Broadway
Opportunities for local and touring artists to collaborate and share the stage
-Numbers from 2017/2018 season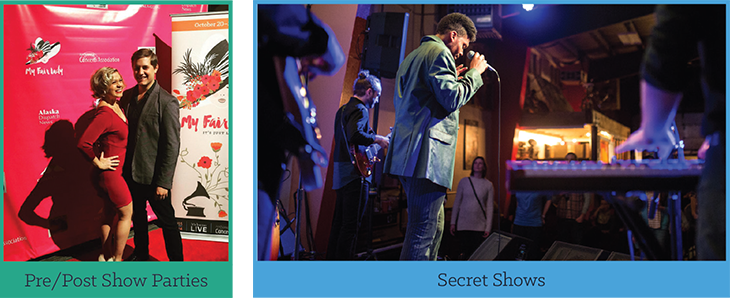 Pre-Show Parties
Join us before many shows for a pre-show party! These events are generally held in the Sky Bridge or the Voth Hall at the Alaska Center for the Performing Arts before select shows, and feature wine and appetizers from a local restaurant partner.
Pre- or Post-Show Talks
Enhance your concert experience with these free talks held in the theatre before many performances. A local expert will give insight into the type of performance you are about to see and give you background information on the artist. On occasion, the artists join as well. You do not need to be a ticket holder to attend these talks.
Talks for 2019/2020 season shows:
For questions regarding any of our events, please call (907) 272-1471 or email info@anchorageconcerts.org.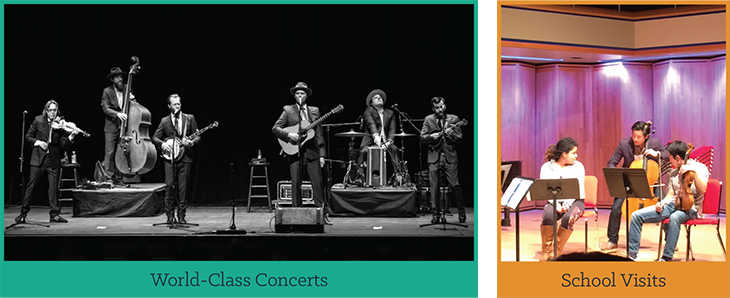 Ticket donations
As part of our commitment to community, Anchorage Concert Association donates more than 1,000 tickets each season to community nonprofit social service organizations for distribution to their clients. Learn more & request tickets
In-school visits
Each season, Anchorage Concert Association brings visiting artists into local schools to connect with students, whether it's an all-school assembly or a more intimate visit with a music class. Learn more
In-theatre performances for schools
Some seasons, Anchorage Concert Association can offer school performances at the Alaska Center for the Performing Arts. These shows, which are offered at an extreme discount, are open to all public, private, and charter schools as well as home-schools and other school groups. Shows are usually one hour in length. Learn more
Volunteer
Anchorage Concert Association volunteers are vital to our success! Volunteers meet artists at the airport, provide backstage hospitality, greet students at school shows, hang posters around town, run the annual Nutcracker store and much more.
Benefits of volunteering include having your name listed in performance programs, receiving invitations to receptions, and earning free tickets to events after accruing a certain number of volunteer hours.