Community Artist Project
---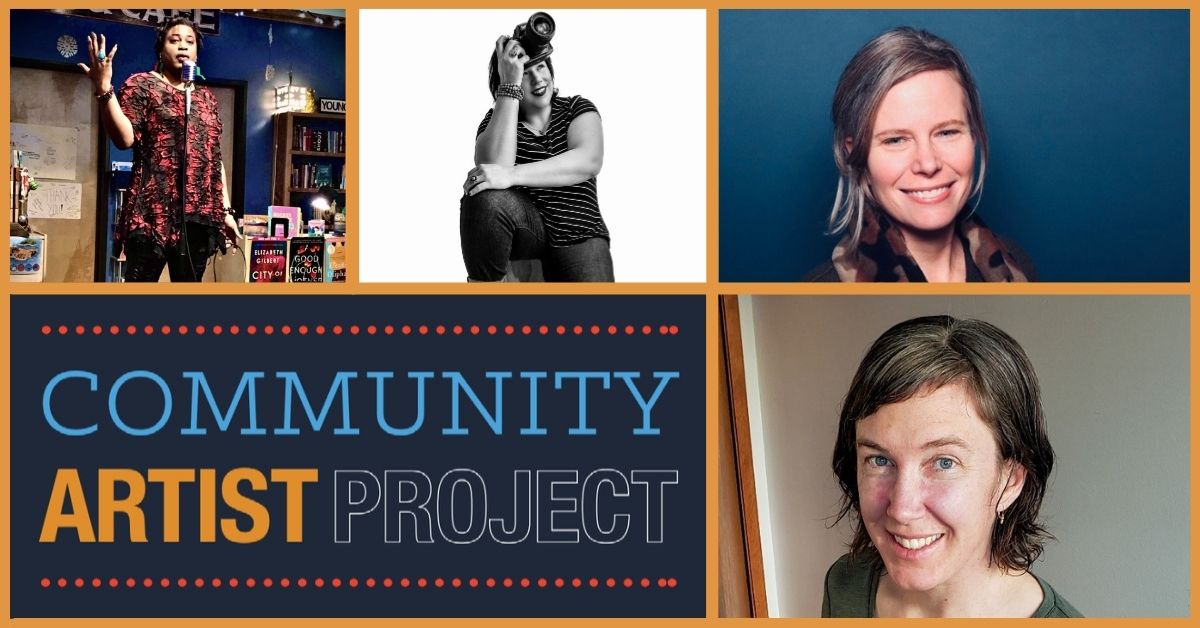 Four Artists, four community projects
Anchorage Concert Association created the Community Artist Project to partner with local artists to create short-term projects that would provide connections communities throughout Anchorage while social events, venues, and performances remain limited due to the COVID-19 crisis
---
Meghan Holtan
The Project | COVID Radio
COVID Radio is a hyper-local radio station located at the Visit Healthcare, ChangePoint drive-through testing site. A collaboration between Anchorage Health Department, Anchorage Concert Association, and community artists and leaders, this project invites people to listen to a mix of music and public health messages that will spark joy, share needed information, and build trust in public health systems, all from the comfort of their car. It is also an opportunity for local musicians and artists to connect with Anchorage audiences while traditional venues remain closed.
The Artist | Meghan Holtan
Meghan Holtan is an artist, data analyst, juggler, and mother. She performed and taught circus arts around the United States before returning home to Anchorage in 2012 and beginning work with Agnew::Beck Consulting. She is currently contracted with the Anchorage Health Department to analyze COVID-19 case data and support the epidemiologist with her weekly reports to the Acting Mayor. Meghan loves making art in public places. Some of her favorite projects include curating a floating art parade, stilt walking while recording audio of people's love of Chester Creek Trail, traveling with the Runaway Circus and Roustabout Circus, and street performing in Italy. She has taught with Chicago's CircEsteem, Talkeetna's Green Light Circus, Anchorage's Winterberry Circus and through the Alaska Artist in Schools Program. Meghan is particularly interested in how lessons from the performing arts can engage citizens in community decision-making, and is always looking for ways to integrate arts strategies in her community development and planning work
Covid Radio
---
M.C. MoHagani Magnetek
The Project | Quarantine Sister Circle: Choreopoem & Compassion Series
The Quarantine Sister Circle is both a series of panel discussions and performance art processes designed to encourage empathy, compassion, connection, and creativity during the isolation and hardships of the COVID-19 pandemic. Gathering women poets, spoken word artists, actors, dancers, and body movement artists to rehearse and perform an original choreopoem, this series will also include panel discussions that focus on empathy and compassion which will be open to the public.
The Artist | M.C. MoHagani Magnetek
M.C. MoHagani Magnetek (pronounced: emcee mahogany magnetic) resides in the Spenard community of Anchorage, AK, at her Wonder Woman Hideout aka Camp Magnetek. She serves as the M.C. (Mistress of Ceremony) and producer for the monthly Edutainment Nite $100 Cash Prize Poetry Slam. She is a Feminist (Nonbinary) Transgender African American Woman, Human Rights Activist and performance artist. She is a U.S. Coast Guard Veteran and has earned degrees in Anthropology (B.A.) English (B.A.) Forensic Death Investigation (graduate certificate) and a Masters of Fine Arts in Creative Writing & Literary Arts. She is currently working on a Masters of Science in Forensic DNA & Serology.
Some of her published works include "Shhh Be Quiet" Building Fires in the Snow (2016) "The Mind-Sol Lady's Revenge" Queer Magic: Power Beyond Boundaries (2018) and "Acrimonious Black Woman Sparks Climate Change Debate with the President" in Alaska Women Speak Literary Journal; Spring 2019: Trajectories. "Girlfriend, What's Your Recipe for Lemonade" Woman Scream: The International Poetry Anthology of Female Voices (2020). Her list of accolades also include riding her bicycle 100 miles in one day, jumping over five cars on her bike, and chaining herself to a tree for justice, equality, and respect for all people. She loves writing creatively and poetry everyday. Taking candy from babies is her favorite pastime.
QUARANTINE SISTER CIRCLE
---
O'Hara Shipe
The Project | Quarantunes
Quarantunes is a video miniseries of intimate concerts and interviews with Anchorage-based musicians. Exploring themes of mental health, creativity, inspiration, and finding community in these unparalleled times, this project highlights Anchorage's musical community while also providing a message of hope for those who are struggling with feelings of isolation, depression, and hopelessness, and normalizing the discussion of mental health.
The Artist | O'Hara Shipe
O'Hara Shipe was born with skates on her feet and a Walkman in her hand. Now a retired professional ice hockey player, she has turned her passion for music into a full-time job. For the past 5 years, she has worked as a freelance multimedia journalist for the Anchorage Press, ADN, and various national outlets. When she's not out supporting Alaska's music scene, you can still catch her donning a pair of skates and headphones at Westchester Lagoon.
---
Leslie Robertson
The Project | The World As Family
The World as Family is a collaborative response art installation project consisting of small painting squares relating to themes of kindness, empathy, connection, and family. Using mobile paint kits, school-aged youth and their teachers are connected to Alaskan communities, non-profit agencies, and other youth groups in Anchorage to work together via covid-safe exchanges to complete both sides of the painting squares. By collaborating with other groups and sharing art-based ideas around these themes, people can actively participate in building a sense of community, connection, and stronger pathways to resiliency.
The Artist | Leslie Robertson
Leslie works as a visual artist in a variety of media with special focus on collaboration and the community. She earned her Masters in Art Therapy from The School of the Art Institute of Chicago and continued to work in both behavioral health and technology settings. She combines her experience in art, counseling, and technology, and provides distance teletherapy along with pursuing her own artistic expression. She enjoys being outside in nature and works with natural materials, plein air painting, and painting with wax (encaustic). She is passionate about bringing people together through community art projects and has recently worked with school age youth, Alaskan communities and non-profit organizations serving environmental concerns and also serving people experiencing medical and behavioral health needs.
THE WORLD AS FAMILY