Keola Beamer & Henry Kapono
Hawaiian Legends
---
Friday, October 13, 2017
7:30 pm // Discovery Theatre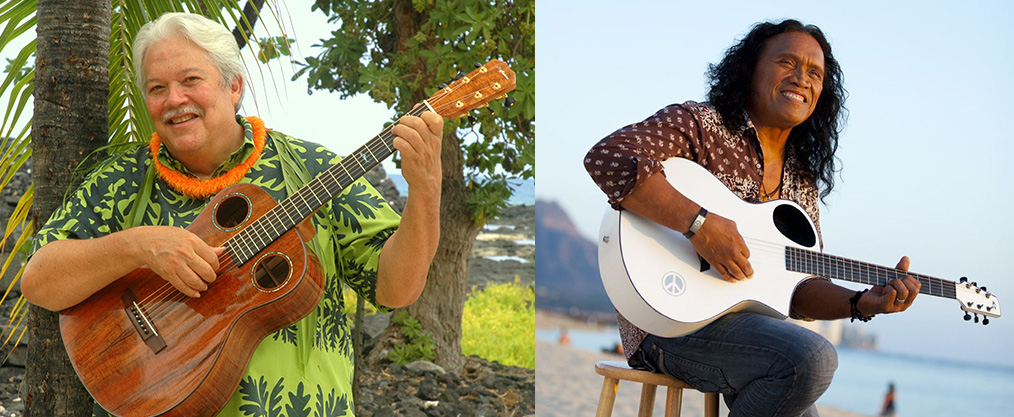 We all owe a big mahalo to Keola Beamer and Henry Kapono. Both musicians were at the forefront of a major American musical moment - the Hawaiian Renaissance. In the 1970s, Beamer, Kapono and their peers fused traditional Hawaiian music with laid-back rock. This music was part of a crucial movement to revive language, hula, and other aspects of Hawaiian culture that were fading away.
Kapono is a Grammy-nominated singer-songwriter, and was half of the wildly popular Cecilio & Kapono. The New York Times called Beamer "the quintessential Hawaiian slack-key guitar master" and his album "Honolulu City Lights" is still the best-selling record in Hawaiian music history, almost 40 years after its release.
Take a trip to the islands with these Hawaiian legends – without leaving the state.
TYPE OF EVENING
Honeymoon-Worthy Adventure
Cultural Treasure
WHAT TO EXPECT
An island escape
COME WITH
Aloha attitude and a hibiscus in your hair
Subscribe and save! Tickets start at $40.25, or $32 with a subscription package of 3 or more shows.

Pre-concert talk, 6:30-7pm: Robert Kaleopaa, host of KNBA's Island Style, will provide background on the artists and slack-key guitar, and Ariel Graham, dance teacher at East High School, will discuss the celebration of Polynesian culture in the arts at East High. Free. You do not need a ticket to the show to attend this pre-concert talk.
COMMUNITY COLLABORATIONS
Keola Beamer and Henry Kapono will also appear at a special performance with Na Keiki O Hawaii Hawaiian Civic Club, 6:30 p.m. Thursday, Oct. 12, at Hula Hands Restaurant, 501 W. Fireweed Ln.

Keola Beamer and Henry Kapono are also conducting workshops with East High School's dance and guitar classes.