Keola Beamer & Henry Kapono
Hawaiian Legends
---
Friday, October 13, 2017
7:30 pm // Discovery Theatre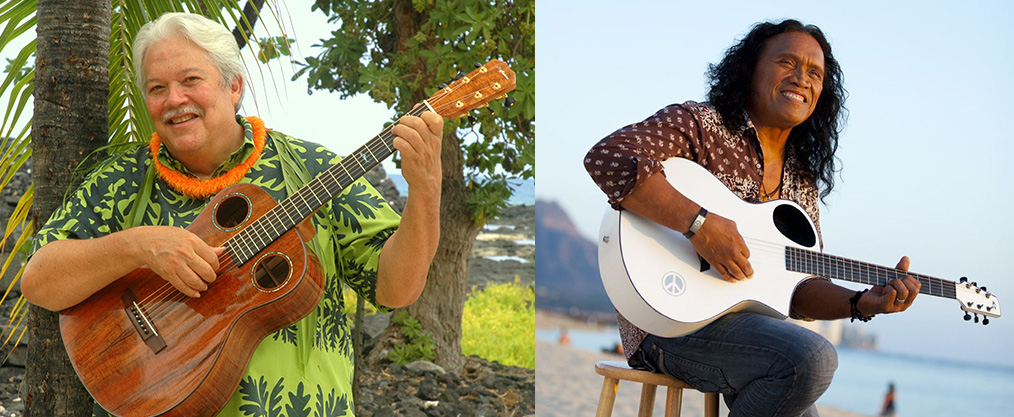 We all owe a big mahalo to Keola Beamer and Henry Kapono. Both musicians were at the forefront of a major American musical moment - the Hawaiian Renaissance. In the 1970s, Beamer, Kapono and their peers fused traditional Hawaiian music with laid-back rock. This music was part of a crucial movement to revive language, hula, and other aspects of Hawaiian culture that were fading away.
Kapono is a Grammy-nominated singer-songwriter, and was half of the wildly popular Cecilio & Kapono. The New York Times called Beamer "the quintessential Hawaiian slack-key guitar master" and his album "Honolulu City Lights" is still the best-selling record in Hawaiian music history, almost 40 years after its release.
Take a trip to the islands with these Hawaiian legends – without leaving the state.
TYPE OF EVENING
Honeymoon-Worthy Adventure
Cultural Treasure
WHAT TO EXPECT
An island escape
COME WITH
Aloha attitude and a hibiscus in your hair
Subscription tickets (3 or more shows) are on sale now. Tickets for individual shows go on sale August 21.

COMMUNITY COLLABORATIONS
Keola Beamer and Henry Kapono will also appear at a special performance with Na Keiki O Hawaii Hawaiian Civic Club, 6:30 p.m. Thursday, Oct. 12, at Hula Hands Restaurant, 501 W. Fireweed Ln.

Keola Beamer and Henry Kapono are also conducting workshops with East High School's dance and guitar classes.