La Santa Cecilia
Music beyond borders
---
Friday, November 10, 2017
7:30 pm // Discovery Theatre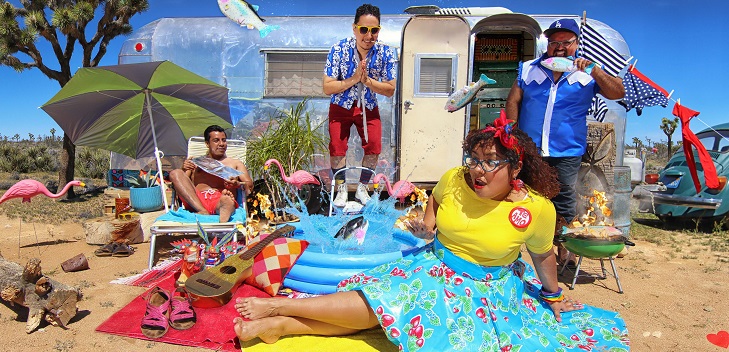 La Santa Cecilia started their career by serenading passersby on Los Angeles' historic Olvera Street. Today, they've won a Grammy, toured from coast to coast, and collaborated with legends, including Elvis Costello and Led Zeppelin's John Paul Jones.
Named for the patron saint of music, La Santa Cecilia performs a passionate, high-energy mix of original material, traditionals, and covers in Spanish and English. Vocalist Marisol Hernández, known as La Marisoul, has a voice that will stop you in your tracks. With songs of love, loss, and everyday struggles, La Santa Cecilia has given a soundtrack to a bicultural generation, rising to fame with the anthem "El Hielo," about the struggle of undocumented immigrants.
Vamos to this modern-day creative hybrid of Latin culture, rock, and world music.
TYPE OF EVENING 
Music Lovers Date Night
Supercalifragilisticoespialidoso evening
Latin Grammys, Anchorage Edition

WHAT TO EXPECT 
Powerhouse performers who defy musical and cultural boundaries
COME WITH 
High expectations
A joyful spirit and your toes tapping
Subscription tickets (3 or more shows) are on sale now. Tickets for individual shows go on sale August 21.

COMMUNITY COLLABORATIONS
Community Conversation, Sept. 1, Out North's Experience Theatre Gallery
Día de Muertos, Nov. 2, Out North's Experience Theatre Gallery
Welcome Fiesta for La Santa Cecilia, Nov. 9, University of Alaska Anchorage
La Santa Cecilia: Community Jam and Conversation, 6:30 p.m. Nov. 9, Out North's Experience Theatre Gallery
Learn more about La Santa Cecilia's music and celebrate the cultural diversity in Anchorage through thoughtful conversation and joyful exchange though music. Moderated by Indra Arriaga. Made possible through the collaboration of: Anchorage Concert Association, Wells Fargo, Sol de Medianoche, UAA Multicultural Center, Keys to Life, and Out North. This event is FREE.

Community events presented in partnership with Anchorage Concert Association, UAA Multicultural Center, Sol de Medianoche, Keys To Life, Out North Art House, and Anchorage Chamber of Commerce Hispanic Organization of Latin Advancement (HOLA)