Little Shop of Horrors
It will leave you hungry for more
---
February 20-25, 2018
Atwood Concert Hall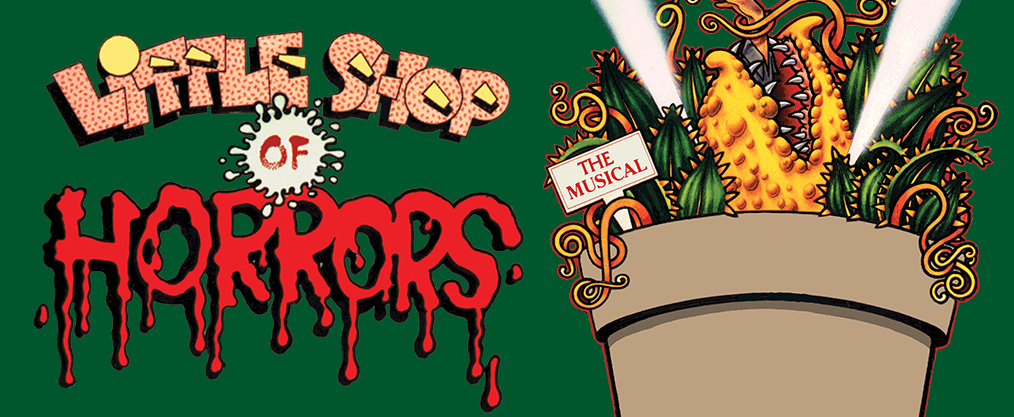 With infectious music that combines rock, Motown and Broadway, Little Shop of Horrors is the sci-fi smash that has devoured the hearts of theatregoers for more than 30 years.
Howard Ashman and Alan Menken (Disney's "The Little Mermaid," "Beauty and the Beast," and "Aladdin") are the creative geniuses behind what has become one of the most popular shows in the world.
Feed your need for musical hilarity with this tongue-in-cheek delight.
Note: Little Shop of Horrors contains comic violence, substance abuse, and language.
BROADWAY IN ANCHORAGE BROUGHT TO YOU BY


"Exuberant … leaves the audience ravenous for more." – The New York Times
TYPE OF EVENING 
Kitschy good time
Giddy, irresistible entertainment
WHAT TO EXPECT 
A frighteningly funny comedy that'll leave you hungry for more
COME WITH
Out-of-this-world humor and a good set of pruning shears
Subscribe and save! Tickets start at $49.25 for adults, or $38 with a subscription package of 3 or more shows.

"This horticultural horror will have you screaming with laughter." – New York Post
SHOW TIMES
7:30 p.m. Tuesday-Thursday, Feb. 20-22, and Sunday, Feb. 25
8 p.m. Friday-Saturday, Feb. 23-24
2 p.m. Saturday-Sunday, Feb. 24-25
All shows in the Atwood Concert Hall at the PAC
Runs approximately 2.5 hours including intermission
ASL
An ASL Interpreter can be arranged for the 2 p.m. matinee Sunday, Feb. 25. Please contact CenterTix by noon Friday, Feb. 2, to request this service.
"Giddy, irresistible entertainment." – Women's Wear Daily
SPECIAL GUESTS
Local celebrities and personalities will have guest appearances for a special walk-on role, including DJs
Casey B
and
Malie D
from 101.3 KGOT,
April Powers
from Magic 98.9, and
Dave Stieren
from KFQD; TV anchor
Megan Mazurek
from KTVA;
Mayor Ethan Berkowitz
; and Olympian
Holly Brooks
.
BLOOD DRIVE
11 a.m. to 6 p.m. Saturday, Feb. 24, G Street at 5th Avenue near the PAC
The Anchorage Concert Association is also hosting a blood drive downtown for Blood Bank of Alaska, in celebration of Little Shop of Horrors. Contact Blood Bank of Alaska to register to donate. Eat Well, Stay Hydrated, and Bring a Photo ID.
Note: Blood collected during the blood drive will help Alaska patients in need and will not be fed to any carnivorous, R&B-singing plants from outer space.

A BOY-MEETS-GIRL, PLANT-EATS-WORLD LOVE STORY
Not your typical boy-meets-girl comedy, Little Shop of Horrors is a hilarious musical that's literally out of this world. On Skid Row, Seymour is your average, nerdy, down-on-his-luck floral assistant. That all changes when he meets a power-hungry, fast-talking plant who vows to fulfill Seymour's wildest dreams: fame, fortune and the heart of the girl he loves. There's just one catch. The plant thirsts for human blood, and its growing pains send Seymour down a diabolical path with murderous consequences. Little Shop of Horrors is based on a 1960s B-movie film of the same name, directed by cult film favorite, Roger Corman.
Adapted for the stage by Alan Menken (lyrics) and Howard Ashman (book), Little Shop of Horrors opened off-Broadway at the Orpheum Theatre in New York's East Village in 1982 with an infectious score that gleefully combines rock, Motown and Broadway. Menken and Ashman would go on to collaborate on the scores for Walt Disney classics such as The Little Mermaid, Beauty and the Beast, and Aladdin. The show ran off-Broadway for 2,209 performances and closed on November 1, 1987. At the time of its closing, Little Shop of Horrors was the third-longest running show, as well as the highest-grossing, in off-Broadway history.A 2003 revival opened on Broadway at the Virginia Theatre on October 2, 2003, and ran for 372 performances.
The 1986 film featured a screenplay by Ashman and was directed by Frank Oz (The Muppets Take Manhattan, What About Bob?). A new song for the film, "Mean Green Mother from Outer Space," by Ashman and Menken was nominated for an Academy Award. The movie starred Rick Moranis (Honey, I Shrunk the Kids) as Seymour, Ellen Greene, who originated the role of Audrey onstage, and Steve Martin (The Jerk, Saturday Night Live) as the sadistic dentist.