The Moxie Strings
No Strings Attached
---
Friday, January 19, 2018
7:30 pm // Discovery Theatre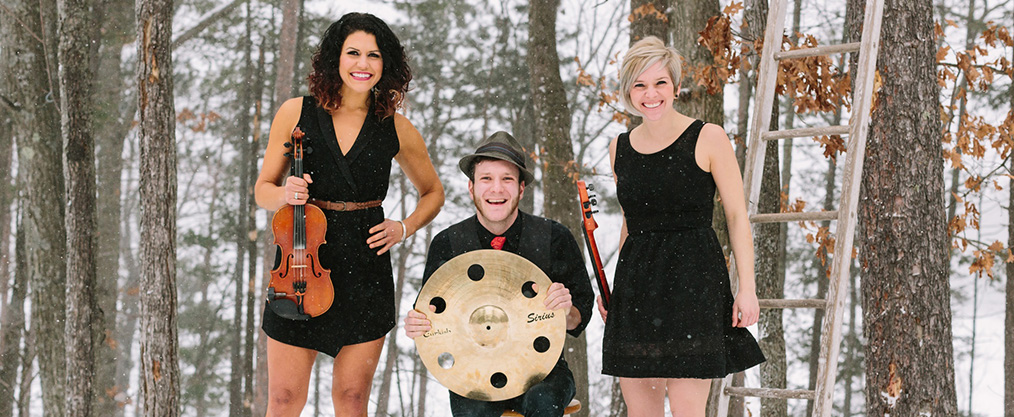 An electric cello, an Irish drum, and a violin with an extra string walk into a bar…that's not a joke. That's the packing list for The Moxie Strings, an energetic instrumental trio that puts a fresh, enticing spin on Celtic and Americana music.
Though rooted in tradition, they stretch their instruments to entertain audiences of all stripes. For example, cellist Alison Lynn has performed with Kanye West, Trans-Siberian Orchestra, and Gaelic Storm. In The Moxie Strings her bandmates are violinist Diana Ladio and world music percussionist Fritz McGirr, who studied in Ireland with bodhran greats Tommy Hayes and Jim Higgins. "The Moxie Strings mix chops with heart"- Current Magazine. Don't fiddle around – these top-notch instrumental wizards are sure to dazzle Anchorage audiences.
TYPE OF EVENING
Upbeat Date Night
Music Appreciation Club

WHAT TO EXPECT
Feel-good melodies and foot-stomping, rock-influenced rhythms
COME WITH
Moxie, of course

SPECIAL GUESTS
Featuring music students from Service High School

Subscribe and save! Tickets start at $40.25, or $32 with a subscription package of 3 or more shows.
Pre-performance talk 6:30-7 pm: Enhance your experience with a free talk one hour before this performance. A local expert will give insight into the type of performance and more information about the artist. You do not need a ticket to attend the talk.