One-Man Star Wars Trilogy
May the farce be with you
---
December 1-2, 2017
Discovery Theatre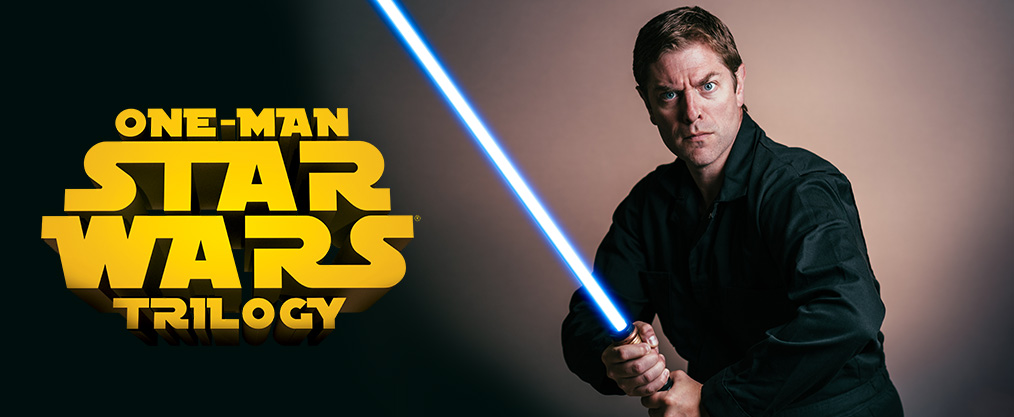 Actor Charles Ross says his rapid-fire Star Wars recap is "the result of misspent youth." His hilarious solo show condenses the original movie trilogy into 90 minutes of sci-fi shenanigans. He plays all the Star Wars characters with spot-on impressions, even bickering with himself as he plays C-3P0 and R2-D2. Combining a 5-year-old's imagination and energy with a seasoned actor's skillset, Ross sings the music, flies the ships, fights the battles, and even offers a little off-script commentary. "A one-man reenactment of Star Wars is nerdier - and funnier - than you can possibly imagine!" – Spin Magazine. Grab your favorite Jedi and return to a long time ago, in a galaxy far, far away.
TYPE OF EVENING 
Movie Night with a Twist
Revenge of the Nerds
WHAT TO EXPECT 
A sidesplitting show suitable for ages Young Anakin to Yoda
COME WITH 
Leia hair or an Obi-Wan robe
Note: Audience members are invited to wear costumes, but no masks or weapons are allowed.

One-Man Star Wars Trilogy is performed with permission of Lucasfilm Ltd. All "Star Wars" elements are property of Lucasfilm Ltd. All rights reserved.
Subscription tickets (3 or more shows) are on sale now. Tickets for individual shows go on sale August 21.