One-Man Star Wars Trilogy
May the farce be with you
---
December 1-2, 2017
Discovery Theatre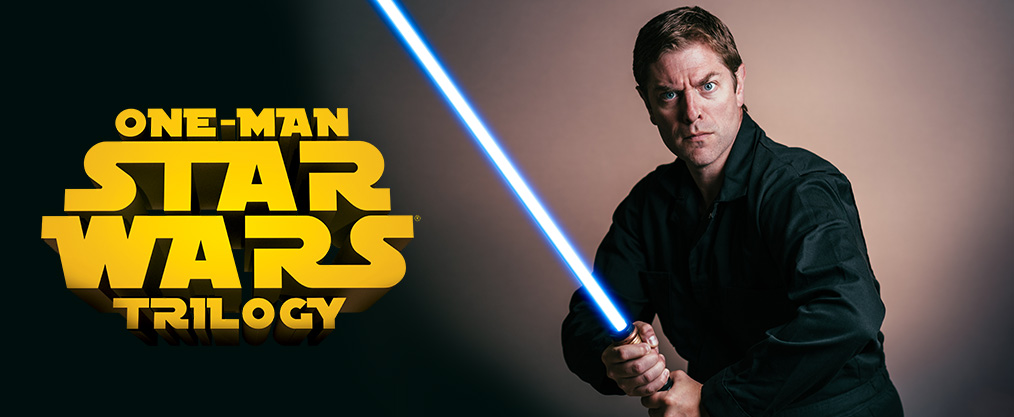 Actor Charles Ross says his rapid-fire Star Wars recap is "the result of misspent youth." His hilarious solo show condenses the original movie trilogy into one performance of sci-fi shenanigans.
He plays all the Star Wars characters with spot-on impressions, even bickering with himself as he plays C-3P0 and R2-D2. Combining a 5-year-old's imagination and energy with a seasoned actor's skillset, Ross sings the music, flies the ships, fights the battles, and even offers a little off-script commentary.
"A one-man reenactment of Star Wars is nerdier - and funnier - than you can possibly imagine!" – Spin Magazine.
Grab your favorite Jedi and journey to a long time ago, in a galaxy far, far away.
Note: Audience members are invited to wear costumes, but no masks or weapons are allowed.

SPONSORED BY
TYPE OF EVENING 
Movie Night with a Twist
Revenge of the Nerds
WHAT TO EXPECT 
A sidesplitting show suitable for ages Young Anakin to Yoda
COME WITH 
Leia hair or an Obi-Wan robe
SHOW TIMES
7:30 p.m. Friday, Dec. 1
2 p.m. and 7:30 p.m. Saturday, Dec. 2
Tickets start at $40.25 for adults and $30.50 for youth 18 and under. Save more with a subscription! Tickets start at $32 for adults and $24 for youth 18 and under with a subscription package of 3 or more shows.
One-Man Star Wars Trilogy is performed with permission of Lucasfilm Ltd. All "Star Wars" elements are property of Lucasfilm Ltd. All rights reserved.