Piano Battle
They play, you vote
---
Friday, January 26, 2018
7:30 pm & 10 pm late-night set // Discovery Theatre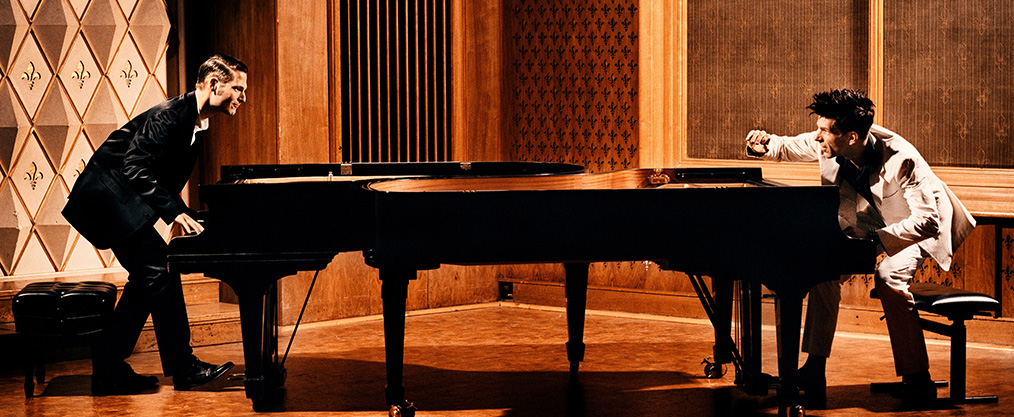 Piano Battle is the brainchild of internationally accomplished pianists Andreas Kern and Paul Cibis, two artists with distinctly different performance styles. Witness the dueling duo going head-to-head as they charm and enchant you, while alternately performing pieces by composers such as Chopin, Liszt, Debussy, and Schubert. They even improvise audience requests! The intensity and music heat up with every round and, ultimately, the audience votes to crown the winner. Piano Battle has played to sold-out shows in Europe, the U.S., and Asia, as well as enthusiastic crowds in their home country of Germany. Time Out magazine calls the show "serious classical music in a whole new context." Piano Battle is a true spectacle of sight and sound. You will truly be knocked out.
7:30 pm show - sold-out! Sometimes tickets open up closer to the event. Stay tuned.

10-11 pm show - All tickets are $25.

TYPE OF EVENING
Pianos mano-a-mano
Music Date Night
WHAT TO EXPECT
Serious classical recital + tongue-in-cheek performance
COME WITH
An evenly-matched arbiter
"Piano Battle has the elegance of classic music, the excitement of rock and the energy of hip-hop." -Newsies, South Korea