The Quebe Sisters
Echoes of the Grand Ole Opry
---
Saturday, March 10, 2018
7:30 pm // Discovery Theatre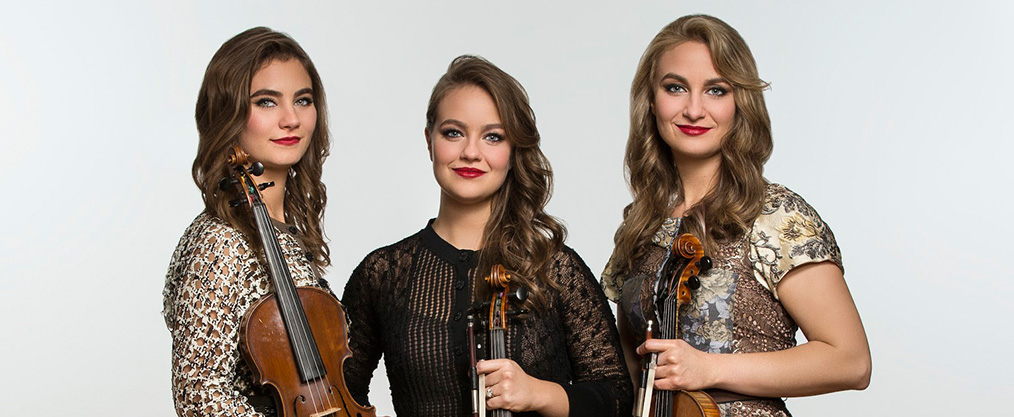 Let us tell you a little story about three sisters. Hulda, Sophia, and Grace Quebe (rhymes with "maybe") grew up near Fort Worth, Texas. They were only 7, 10, and 12 when they first took to the stage at a fiddle competition. Right then and there, they decided that's what they wanted to do, and they were determined to do it together.
The whiz-kid Western swing fiddlers went on to earn state and national championships and share stages with American music legends including Willie Nelson and George Strait. As young adults, The Quebe Sisters have branched out into the Americana genre, but their music is still flavored with retro country western sound and authentic Texas swing fiddling.
With their multi-part close harmony and tremendous talent, you'll be transfixed, then blown away.
"The Quebe Sisters simply stopped me in my tracks when I heard them the first time. Their blend of swing with a dash of contemporary color is unique in today's music world. They project a cannonball of stage presence and man can they play."
-Jimmy Buffett
TYPE OF EVENING
Texas Dance Hall Date Night
Sister Act
WHAT TO EXPECT
Echoes of the Grand Ole Opry
COME WITH
Your cowboy boots on
Pronunciation: "Qway-bee"

Subscribe and save! Tickets start at $40.25, or $32 with a subscription package of 3 or more shows.

"The Quebe Sisters play the best feel-good music I've ever heard. When they're playing, I can't stop smiling! I'd drive a thousand miles to hear them again."
-Ed King, original member of Lynyrd Skynyrd, writer of "Sweet Home Alabama"
"It's an honor to live on the same planet as the Quebe Sisters. They represent everything that I love about pure American music and I'm probably their biggest fan."
-Marty Stuart