The Snow Child - Cancelled
A new roots-infused musical based on the novel by Eowyn Ivey
---
May 25-May 27, 2018
Discovery Theatre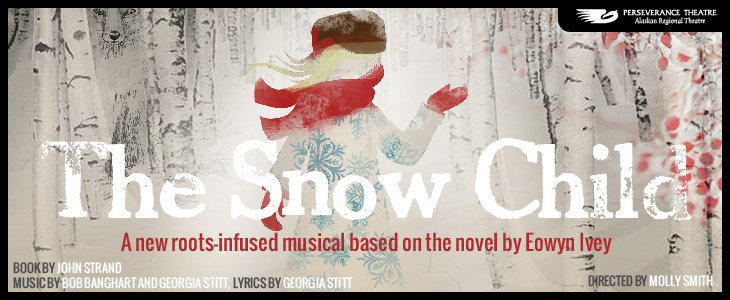 This show has been cancelled. Please contact CenterTix box office for information about refund and ticketing options if you have a ticket.
Eowyn Ivey's debut novel The Snow Child, a finalist for the Pulitzer Prize, is reborn as a magical new musical that dances on the edge of legend. In the 1920s Alaskan wilderness, a couple reeling from the loss of an unborn child struggles to rebuild their lives. Everything changes suddenly when they are visited by a wild, mysterious girl who embodies the dark woods that surround their cabin. In this beautiful and violent land, things are rarely as they appear, and what the snow child teaches them will ultimately transform them all. Featuring a vibrant and haunting score that combines backcountry roots music and contemporary musical theatre, this world premiere musical is as evocative as the land it depicts.
Presented by Perseverance Theatre.
Perseverance Theatre shows can be included in an Anchorage Concert Association subscription! Select three or more shows and save.