Blue Man Group
Still blue. The rest is new.
---
Dec. 7-11, 2022
Atwood Concert Hall
Sponsored By: TOTE Maritime Alaska & Alaska Airlines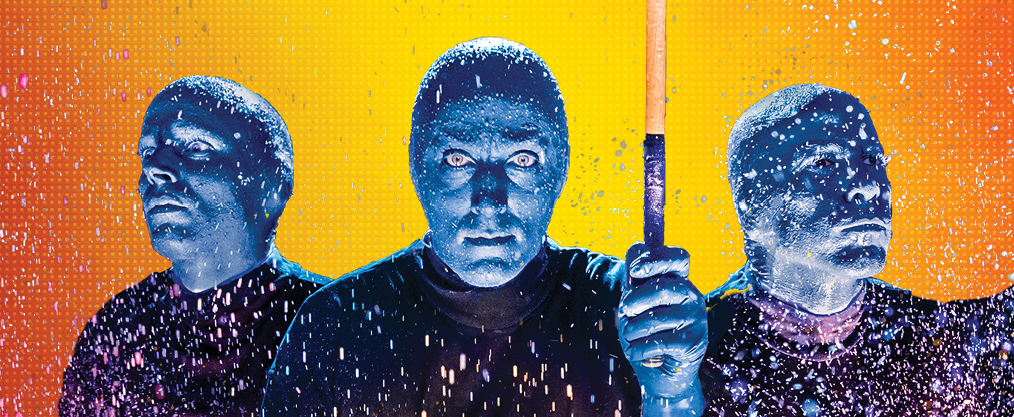 ---
Subscribe and save! Subscription tickets start at $48.
More than 50 million people around the world have experienced the smash hit phenomenon that is BLUE MAN GROUP and now it's your turn! BLUE MAN GROUP returns to Anchorage for a limited engagement on their new North American tour. It's everything you know and love about BLUE MAN GROUP – signature drumming, colorful moments of creativity and quirky comedy – the men are still blue but the rest is all new! Featuring pulsing, original music, custom-made instruments, surprise audience interaction, and hilarious absurdity, join the Blue Men in a joyful experience that unites audiences of all ages.
TYPE OF EVENING:
Hilariously absurd
Avant-garde night out
Wild and interactive evening
WHAT TO EXPECT:
A euphoric celebration of human connection through art, music, science, and comedy
Thriving pulse of vibrant beats and humor that unites all ages
Perpetually blue trio creating moments of colorful creativity and quirky surprises
COME WITH:
The universal language of humor
An expectation for the unexpected
Plenty of energy
THE SPLASH ZONE
Tickets are now on sale for the action-packed Splash Zone seats for Blue Man Group! These first three rows let you get so close that the only thing seperating you from the show is a provided poncho
You will not get wet, but you may be splashed with materials. All materials are washable, but we suggest you wear your phonco and comfortable washable clothing that does not need dry cleaning.
---
SHOW TIMES:
Tuesday, Dec. 6 // 7:30pm -
Wednesday, Dec. 7 // 7:30pm
Thursday, Dec. 8 // 7:30pm
Friday, Dec. 9 // 8pm
Saturday, Dec. 10 // 2pm
Saturday, Dec. 10 // 8pm
Sunday, Dec. 11 // 2pm
Sunday, Dec. 11 // 7:30pm
All performances at the Alaska Center for the Performing Arts. Runs approximately 80 minutes with no intermission.
The Tuesday, Dec. 6 performance of Blue Man Group has been cancelled due to a labor shortage of qualified crew. The other seven performances will continue as scheduled. All Tuesday ticket holders may move their tickets into any of the remaining performances. Please contact the CenterTix Box Office at (907) 263-2787 to move your seats.
AUDIENCE ADVISORY:
Every BLUE MAN GROUP performance is a party! While this production is friendly for the whole family, please note it features loud music, bright lighting, strobe lights, haze and other atmospheric effects. Please also be aware that there are moments of audience participation and that certain physical elements of the show, including paint and other non-toxic materials, may reach some members of the audience.
---
Anchorage Concert Association and CenterTix box office are the only authorized sellers of tickets to this show.