Cirque Dreams Holidaze
A family holiday spectacular
---
Dec. 28-31, 2023
Atwood Concert Hall
Sponsored By: Matson, Inc.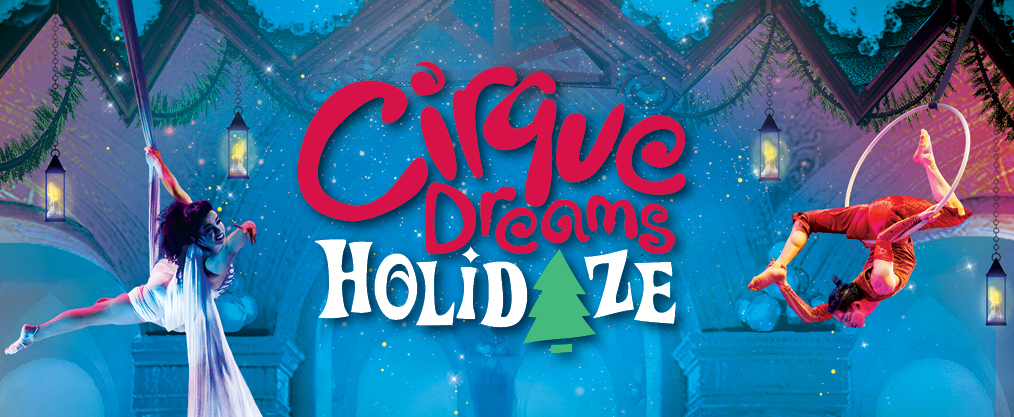 Subscribe and save! Subscription tickets start at $33.
CIRQUE DREAMS HOLIDAZE dazzles with a brilliant and whimsical family holiday spectacular. This annual tradition wraps a Broadway-style production around an infusion of contemporary circus arts. As lights dim and the music swells, audiences will have visions of sugarplums dancing in their heads as a fantastical cast of holiday storybook characters come to life. Broadway World exclaims, "Lose yourself for 90 minutes and go back to those wonderful dreams you had as a kid."
Featuring an ensemble of aerial circus acts, sleight-of-hand jugglers, fun-loving skippers, breath-catching acrobatics, and much more, the Dayton Daily News proclaims, "A new set of eyes should be added to my Christmas list…there's no way the stunts I witnessed onstage actually happened as most of them aren't humanly possible."
Imaginative and fun for the whole family, CIRQUE DREAMS HOLIDAZE features a world-renowned cast of performers accompanied by an original musical score including new twists on seasonal favorites such as Rockin' Around the Christmas Tree and Carol of the Bells. Singers, dancers, penguins, toy soldiers, and reindeer invoke the dreams behind a child's eye on the most magical of nights. Amidst a backdrop of new sets, scenery, and storylines, this family-friendly production is sure to put a twinkle in your eye!
TYPE OF EVENING:
Holiday hits
Wow-factor day out
Festive family fun
WHAT TO EXPECT:
Dazzling circus acts mixed with Broadway-style production
Tight-wire marching tin soldiers and high-flying reindeer
Charm, sparkle, and talent by the sleighload
COME WITH:
Child-like wonder
Good tidings and cheer
Kids from 1 to 92
---
SHOW TIMES:
Thursday // Dec. 28 @ 7:30pm
Friday // Dec. 29 @ 3pm
Friday // Dec. 29 @ 7:30pm
Saturday // Dec. 30 @ 11am
Saturday // Dec. 30 @ 3pm
Saturday // Dec. 30 @ 7:30pm
Sunday // Dec. 31 @ 1pm
---
Anchorage Concert Association and CenterTix box office are the only authorized sellers of tickets to this show.