The Daily Show Writers Comedy Tour
The funniest people in late night
---
Mar. 10 & 11, 2023
7:30pm // Discovery Theatre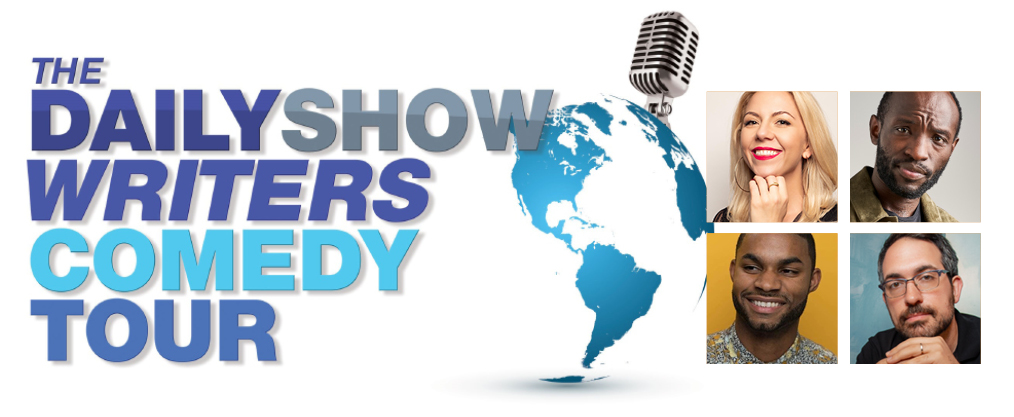 Subscribe and save! Subscription tickets start at $35.25.
Who hasn't heard of The Daily Show? The longest-running program on Comedy Central, The Daily Show has won 24 Primetime Emmy Awards over its 20+ year reign as TV's top satirical news and talk show. Now, four brilliant, Emmy-nominated Daily Show comedy writers are stepping out from behind their desks and into the spotlight.
Matt Koff, Lisa Curry, Joe Opio, and Randall Otis are the folks behind the jokes, making America laugh every weeknight on TV and live in theatres across the country. From making fun of their failed dating lives, being a cat owner, or talking politics, the Daily Show comedy writers find laughs everywhere they go – including Alaska where they will be hosted by local comedian, Mike Lajoie.
Spend a hilarious night with The Daily Show writers and see what (and who) is so funny.
TYPE OF EVENING:
Laugh-out-loud night out
Stand-out stand-up evening
As seen on TV
WHAT TO EXPECT:
Four comedians bring their comic's-eye views to current news, personal stories, and political satire
Wicked smart satire and stand-up from the funniest people in late-night TV
COME WITH:
An appreciation for all things satirical
Your sense of humor, of course
---
MATT KOFF is a stand-up comedian and writer for The Daily Show with Trevor Noah. Matt won an Emmy for his work at The Daily Show with Jon Stewart and his standup has appeared on Comedy Central and History. Matt's debut comedy album, Who's My Little Guy, was released on 800 Pound Gorilla Records during the summer of 2019.
LISA CURRY is an internationally touring comedian and TV writer. She was a staff writer on the Jim Jefferies Show on Comedy Central and she now opens for Jim on his theatre tours. Her debut album, 'Alive For a While' was recorded live in London and received an exclusive release on SiriusXM. Lisa now hosts a weekly show on SiriusXM called "Long Story Long," which airs every Thursday at 9am + 5pm PT on She's So Funny channel 771.
JOE OPIO is a Ugandan stand-up comedian and writer on The Daily Show With Trevor Noah. In addition to being a trained lawyer and accountant, Joe is an observational satirist whose standup has been seen on three different continents from South Africa through Switzerland to the biggest comedy clubs in New York. Opio has written over 360 episodes of The Daily Show and is a WGA Award nominee.
RANDALL OTIS is a writer, comedian and actor based in Manhattan, hailing from Florida. He has performed around the country, including the New York Comedy Festival and the New South Comedy Festival (to name a few). Randall has also been featured on VICE, Above Average, AllDefDigital, and The Huffington Post where he was responsible for articles such as "Scientists Discover Another Thing You're Too Stupid To Understand" and "Absence Makes The Heart Grow Fonder and Other Reasons I Abandoned My Family!"
MIKE LAJOIE is the local host for both shows. Born in small town Massachusetts and raised in South Florida, Mike has lived in Alaska since 1991. He began his stand-up career in 2002 at the World Famous Chilkoot Charlies. He enjoys fishing, all things nerd and his greatest accomplishment is his part in raising his 14-year-old son. Mike has performed with Chris Kataan, Wanda Sykes, Tracy Morgan, Bobcat Goldthwait and Jamie Kennedy.
---
Anchorage Concert Association and CenterTix box office are the only authorized sellers of tickets to this show.