Duplessy & The Violins of the World
The sound of east meets west
---
Friday, Oct. 28, 2022
7:30pm // Discovery Theatre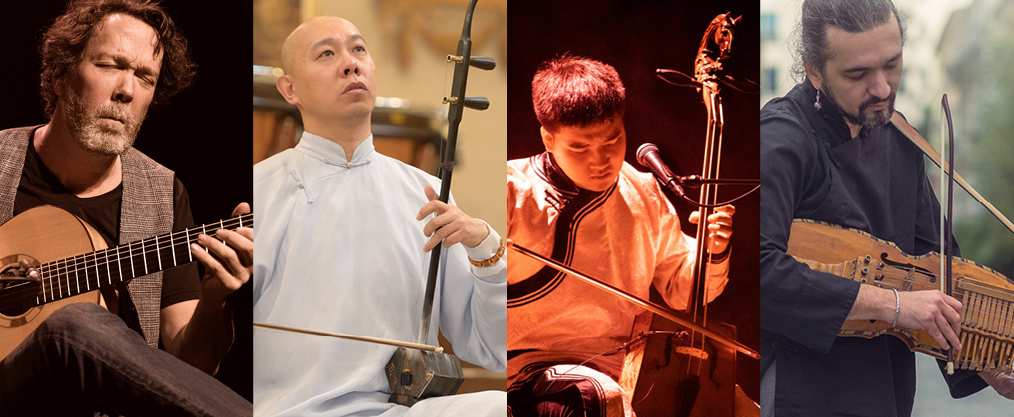 Blending eastern and western sounds, The Violins of the World is turning the earth on its ear. Asian always, spirit of the blues often, with Celtic rhythms and melodies of the Mongolian steppes offer an astonishing cross-cultural encounter. The result is a harmonious new style as balanced as yin and yang.

The brainchild of French Gypsy guitarist Mathias Duplessy, the group consists of Guo Gan from China with his fiddle Erhu; horsehead fiddler and throat singer Enkhjargal (Epi) Dandarvaanchig from Mongolia, and Frenchman Aliocha Regnard on Scandinavian fiddle (Nyckelharpa), backed by Duplessy's propulsive guitar. The explosive foursome performs original compositions and wild covers like Morricone's "The Good, the Bad and The Ugly" and Dire Straits' "Brothers In Arms."
Get ready – Duplessy & The Violins of the World will take you on a raucous ride at breakneck speed.
TYPE OF EVENING:
Musical escape
World music night
Cultural night out
WHAT TO EXPECT:
A wild musical ride around the world at breakneck speed
Four virtuoso musicians bridging the gap between tradition and modernity
Cohesive, constantly changing music that's greater than the sum of its parts
COME WITH:
Bags packed for a musical journey
Your mindset open to adventure
Subscribe and save! Subscription tickets start at $33.
---
Anchorage Concert Association and CenterTix box office are the only authorized sellers of tickets to this show.