Kuf Knotz & Christine Elise
Summer Concert Series
---
Thursday, June 1, 2023
7pm // Goose Lake Park
Sponsored By: Atwood Foundation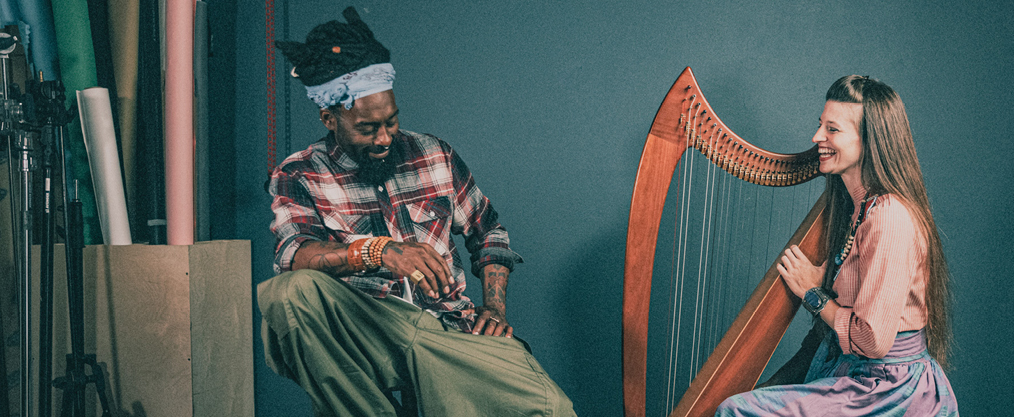 Anchorage Concert Association is proud to present Kuf Knotz & Christine Elise live at Goose Lake Park for the Summer Concert Series 2023 - bringing live music right to your neighborhood. Jerome's Kitchen, Salmon Hookup Truck, and Kona Ice will have food available for purchase.
ABOUT THE SUMMER CONCERT SERIES
The Summer Concert Series features local artists in neighborhoods across Anchorage. A partnership with Anchorage Concert Association and Anchorage Park Foundation, this free concert series brings people together in their own neighborhoods to enjoy live music and the beauty of our parks and trails. The Summer Concert Series is sponsored by Atwood Foundation.
ABOUT KUF KNOTZ & CHRISTINE ELISE
MC/Producer Kuf Knotz & Harpist/Vocalist Christine Elise's performance is a soulful collection of thoughts, words, and sounds that have been carefully crafted to create a jubilant experience. Cultivating a juxtaposition between hip hop, soul, and classical music, their performance has led them to open for acts such as Wyclef Jean, Yellowman, Raging Fyah, Slick Rick, Rising Appalachia and G. Love to name a few. The unlikely pair connected and built the project with a similar vision, wanting to create positive, forward thinking music driven by a strong message. Their performance is a genre fusing journey intended to leave the listener feeling invigorated.
Since the 2018 release of "Higher Grounds," their first album, Kuf Knotz and Christine Elise have brought their unique blend of hip-hop, soul and classical traditions to various communities. Releasing their highly anticipated second album "Ké m yōōnədé" (2021), Kuf and Christine's music explores themes of unity, life and the infinite possibility of creating a better world. They fuse hip-hop with bluesy beats supported by the harp. And, you can dance to it. Kuf and Christine have been featured on NPR Music and WHYY. The duo has opened for Digable Planets, Eubanks & Evans Experience, Wyclef Jean, G-Love, Yellowman, Talib Kweli, Slick Rick, Raging Fyah, Ozomatli and Rising Appalachia. In addition to playing shows at venues, the duo has founded a community outreach performance project, Higher Grounds Music, in which they offer creative arts workshops in various community settings while on the road.