Paula Fuga
Island soul
---
Friday, Sept. 29, 2023
7:30pm // Discovery Theatre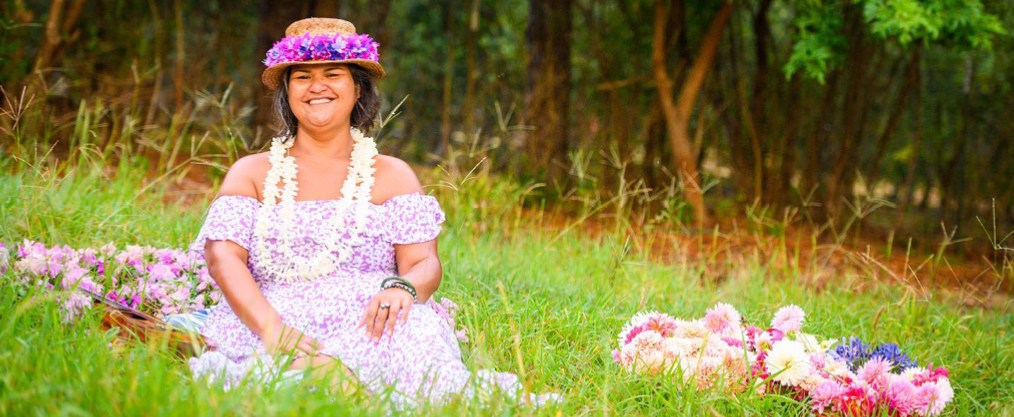 "Hold on just a little bit longer…in time you'll feel a little stronger," Hawaiian singer-songwriter Paula Fuga sings in a soulful cut that seems tailor-made for our time. With a beautiful disposition and sweet-yet-powerful voice, Fuga has become one of Hawaii's most sought-after artists, earning three Na Hoku Award (Hawaii's Grammy), including Female Vocalist of the Year in 2022, and collaborating with Jack Johnson, Ben Harper, and reggae royalty Ziggy Marley.
Growing up on Oahu, she experienced homelessness and hunger, and began expressing through poetry and blossomed into a songwriter when she picked up a ukulele. Impossible to peg into one genre, Fuga's "modern Hawaiian soul" weaves widely-accessible melodies with English and Hawaiian lyrics. With her latest album on Jack Johnson's Brushfire Records and her passion to give back, she's inspiring youth and sharing the welcoming spirit of aloha with the world – and with you.
Support Maui through Music
With Paula Fuga's close ties to Maui, we have added an option to purchase a ticket that includes a donation to the Hawai'i Community Foundation's Maui Strong Fund.
To include a donation with the purchase of your ticket, select the ticket option "Maui Strong" from the dropdown menu after you select your seats. This option includes the donation to support the immediate and long-term recovery needs for the people and places affected by the devastating Maui wildfires AND a ticket for Paula Fuga's performance in Anchorage. 100% of the additional cost above the ticket value will be distributed for community needs through the Maui Strong Fund.
TYPE OF EVENING:
Empowering night out
A memorable night of culture and connection

WHAT TO EXPECT:
Exquisite vocals, powerful lyrics, and gorgeous melodies
Soul, reggae, and jazz-inspired songs that'll leave you smiling
An endearing performer who paints a picture of perseverance

COME WITH:
Pono vibes
Your chosen ohana
Optimism for a brighter future
---
Anchorage Concert Association and CenterTix box office are the only authorized sellers of tickets to this show.