Ozomatli and Flor de Toloache
Worldwide Block Party
---
Saturday, Sept. 29, 2018
7:30 p.m. // Atwood Concert Hall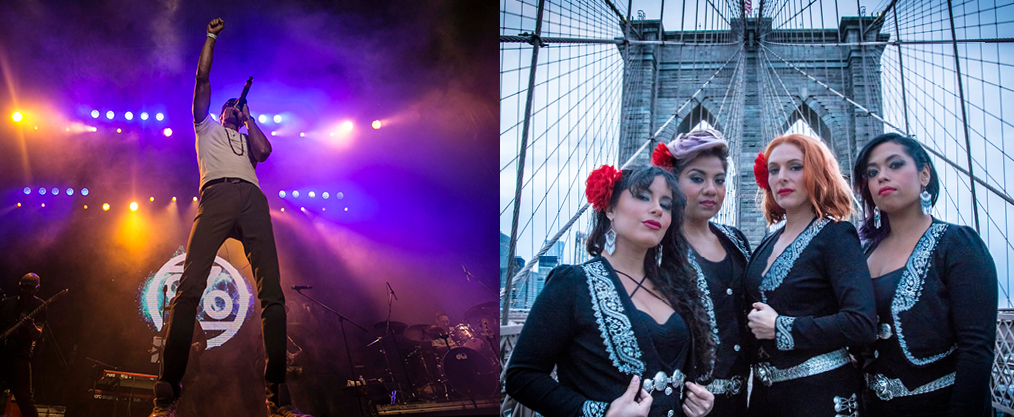 "If you've ever attended an Ozomatli concert, you know it's sort of like being swept up in a Disneyland parade for adults." –LA Times
Could this Latin-fusion double bill be more perfect? No, it could not. Ozomatli (Oh-zo-MAHT-lee) is no stranger to Alaska – the exuberant SoCal globetrotters have headlined festivals near and far. For 20+ years, the "party band with a brain" has captivated audiences with live shows blending funk, hip-hop, and other styles with Latino flair.
Joining the party is all-female mariachi band Flor de Toloache (toe-lo-AH-chay), who recently toured with indie rock supergroup The Arcs. Named after the legendary flower used as a love potion, the Grammy winners cast a spell over audiences with their soaring vocals and gorgeous harmonies. As Rolling Stone says, "you'll never think of mariachi as tame tableside entertainment again."
Both bands keep fans on their toes and the world dancing. ¡Viva la fiesta!
"There should be fireworks named after this band, for all the intensity and color and life that bursts forth from Flor de Toloache." –NPR
Tickets start at $27 for adults and $18 for youth 18 and under with a subscription of any 3 or more shows. Tickets for just this show start at $33.50 for adults and $23.75 for youth.
"Ozomatli ... known for a kinetically feel-good performance style that has set audiences swaying and jumping from L.A. to Myanmar" –LA Times

TYPE OF EVENING
Exciting, captivating, and flat-out fun
Feel-good music night
WHAT TO EXPECT 
Powerful, positive music and audacious energy
COME WITH
Mariachi swagger for days
"It's really cool to be an all-female group, and empower and inspire women," says Flor de Toloache founder Mireya Ramos, "but at the end of the day we want to be known as badass musicians."
5-6 p.m. Thursday, Sept. 27, UAA Student Union Den
Performance and Q&A, hosted by UAA's Latin Student Union
7:30-9 p.m. Thursday, Sept. 27, Downtown Transit Center
Performance and conversation with Flor de Toloache and Alaska's mariachi band Mariachi Agave Azul in Anchorage Museum's installation of Librería Donceles, a traveling Spanish-language bookstore in the Downtown Transit Center.
7-9 p.m. Friday, Sept. 28, Out North Contemporary Art House
A community festival celebrating Hispanic heritage with food, art and a special performance. Free with wine and beer available for purchase to benefit Out North.
Pre-show activities
Enjoy a free pre-show talk from 6:30 to 7 p.m. in the theater hosted by Gabriela Olmos and Mariache Agave Azul and a free pre-show party from 6 to 7:15 p.m. in the Atwood Concert Hall balcony lobby.
In the Community
Flor de Toloache is also performing for students in the Spanish program at Colony High School.