Chris Thile
One man, one mandolin
---
Friday, Nov. 12, 2021
7:30pm // Atwood Concert Hall
Sponsored By: AK Public Media and Joanne & Brian Bennett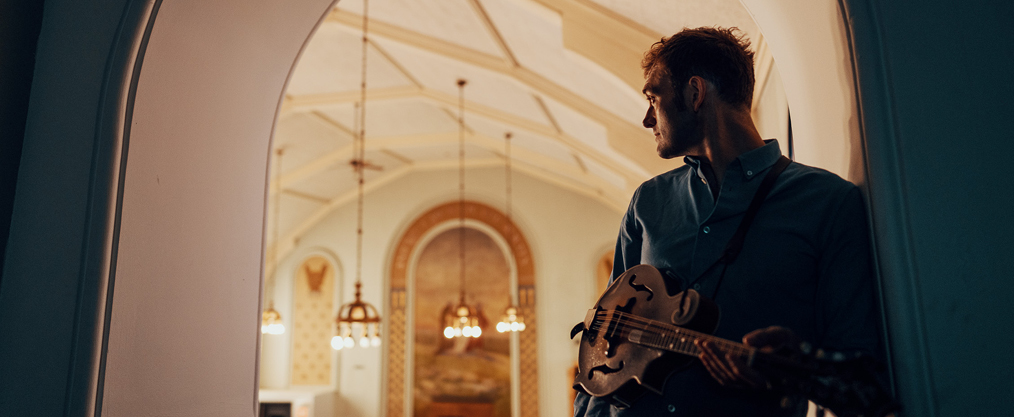 Virtuoso mandolinist Chris Thile seems to defy the laws of physics, making the 8-stringed instrument sound like an orchestra. The MacArthur Fellow and Grammy Award-winning singer-songwriter has been a leading musician of his generation – the "genre-defying musical genius" co-founded the acclaimed bands Punch Brothers and Nickel Creek (the latter at age 8). For four years, Thile hosted public radio favorite Live from Here with Chris Thile (formerly known as A Prairie Home Companion). The Guardian calls Thile "that rare being: an all-round musician who can settle into any style, from bluegrass to classical," creating a distinctly American sound in "one joyous arc, with the linear melody and vertical harmony blurring into a single web of gossamer beauty" -NYT.
With his most recent solo album, Laysongs, he shares a snapshot of life during the pandemic: just Thile, his voice, and his mandolin. In exploring topics of temptations and faith (or lack thereof), Thile shows us that the greatest spiritual sustenance comes from communion with others. Come in and satisfy your craving for unity, making music, and above all, singing together.
TYPE OF EVENING:
Progressive folk night
Broad, lively, and full of mischief
WHAT TO EXPECT:
Everything from Bach to bluegrass to Leonard Cohen
An intimate evening with a one-in-a-million artist
COME WITH:
A sense of togetherness
Your mind open to a musical journey with no preset destination
Sponsored by:

Anchorage Concert Association and CenterTix box office are the only authorized sellers of tickets to this show.