Jake Shimabukuro
Master of strum
---
Saturday, Jan. 29, 2022
7:30pm // Atwood Concert Hall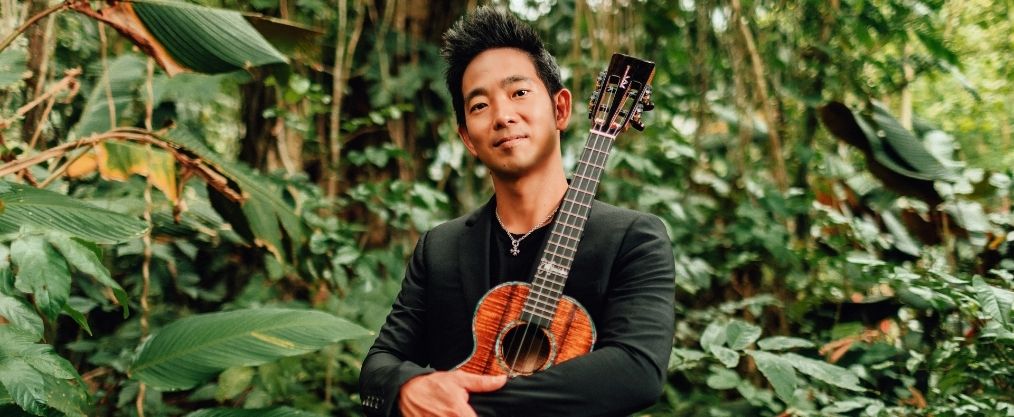 If you've seen Jake Shimabukuro's electric, sold-out shows before, you know there isn't a style he can't play. And he explores this endless versatility on the underdog of instruments: the ukulele. Since first picking up the four-stringed instrument at age four, Hawaii-born Shimabukuro (pronounced she-muh-boo-coo-ro) has gone from local phenom to YouTube sensation to headlining the world's most prestigious venues, gaining millions of admirers and inspiring a new generation of ukulele players along the way. In Jake's words, "if everyone played the ukulele, this world would be a much happier place."
Drawing monster sounds from the tiny instrument, Jake's taken the heretofore underappreciated uke to new frontiers. The LA Times proclaimed him "The Jimi Hendrix of the ukulele" and Rolling Stone calls him a "musical hero." Known for his masterful interpretations of "While My Guitar Gently Weeps," "Bohemian Rhapsody," and other iconic songs, his most recent album Jake & Friends features reimagined collaborations with his own musical heroes, such as Willie Nelson, Bette Midler, and Jimmy Buffett.
With his gentle attitude and transcendental skills, Jake Shimabukuro will inspire you to kick back, stop worrying, and start strumming.
TYPE OF EVENING:
Wow-factor night out
Laid-back & electric
Joyful jams
WHAT TO EXPECT:
Everything from Leonard Cohen to Adele, reimagined in a whole new way
A role model rock star who'll leave you awe-struck
COME WITH:
Aloha vibes
Aspiring musicians of all ages
Anchorage Concert Association and CenterTix box office are the only authorized sellers of tickets to this show.