The Small Glories
Americana's newest triumph
---
Friday, Mar. 25, 2022
7:30pm // Discovery Theatre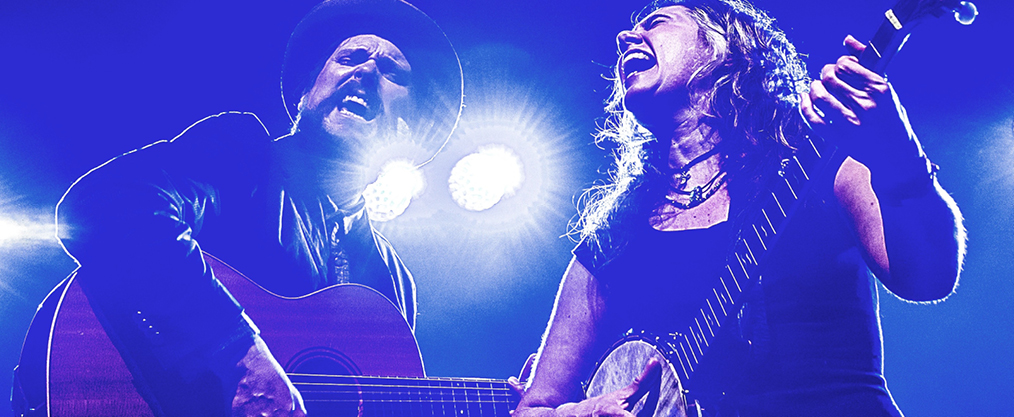 Can two singer-songwriters be better than one? Yes, if those two are Cara Luft and JD Edwards of The Small Glories, a folk-roots powerhouse duo planted on the Canadian Prairies. Thrown together by accident for a show in Winnipeg, this musical tour-de-force could almost make you believe in fate. "Luft is a Wailin' Jennys alum whose work on the clawhammer banjo is to die for, while Edwards' guitar and vocal harmonies deepen and enrich the duo's sound."-NPR Music.
However, a Small Glories performance is really about what happens in-between songs. With stage banter that's somewhere between slapstick and sermon, these veteran singer-songwriters make time disappear, rooms shrink, and audiences feel as if they're right on stage. Their innate chemistry – labeled the "Lennon-McCartney syndrome" by Americana UK, results in a live show that's as heartwarming as it is hilarious, as finger-picking proficient as it is relatable, and as Canadian as, well…it's very Canadian.
Brace yourself: The Small Glories put on a show you really won't want to end.
TYPE OF EVENING:
Folk-tastic night out
Heartwarming and hilarious
Soulful, foot-stomping music night
WHAT TO EXPECT:
Warm and energetic duo that'll keep you spellbound until the last note
Inviting and gasp-inducing folk-pop melodies
Full-hearted lyrics & swelling harmonies that'll wash over you and pull at your heart
COME WITH:
A blend of Americana heart and Canadian charm
Banjos and buffalo plaid
Your perfect match
Anchorage Concert Association and CenterTix box office are the only authorized sellers of tickets to this show.