Talisk
Transcendental Scottish trio
---
Friday, Feb. 11, 2022
7:30pm // Discovery Theatre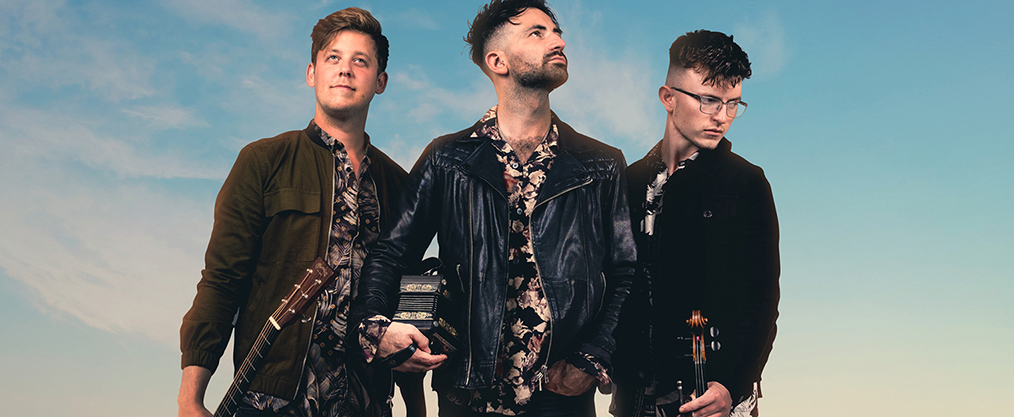 In just five years, Scottish firebrands Talisk have stunned audiences and critics worldwide with their explosively energetic yet artfully woven sound. Talisk's top-notch instrumental wizards don't just play folk music – they take it to another realm.
The Glasgow acoustic trio of Mohsen Amini (BBC Radio 2 Folk Awards' Musician of the Year 2018), Graeme Armstrong and Benedict Morris (BBC Radio Scotland Young Traditional Musician of the Year 2019) fuse concertina (a small accordion-like instrument), fiddle, and guitar into an enthralling trinity that's earned them a die-hard festival following and a No.1 album on the iTunes world music charts. Fresh, fun, and full of oomph – you'd never think a concertina could rock so hard. When Talisk performs live, there's visceral human joy pumping that "literally, drags an audience out of its seats." – The Glasgow Herald.
Don't fiddle around…see Talisk blast traditional into the future, right here and now.
TYPE OF EVENING:
Next-level music night
Upbeat and enthralling
Wow-factor date night
WHAT TO EXPECT:
Music that makes you feel alive
Sheer joy and thrilling musicianship
A fresh and fiery take on folk
COME WITH:
Pure energy
Your eyes and ears set to be amazed
Ready to be transported to another dimension that feels like both the past and the future
Anchorage Concert Association and CenterTix box office are the only authorized sellers of tickets to this show.