A Christmas Carol 2018
Charles Dickens' Classic Brought to Life
---
Dec. 14-29, 2018
Discovery Theatre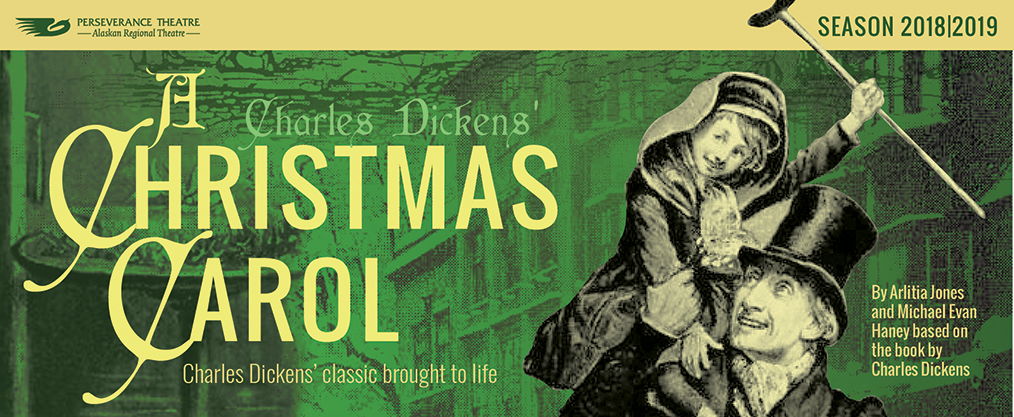 By Arlitia Jones and Michael Evan Haney based on the book by Charles Dickens
Witness Ebenezer Scrooge's miraculous Christmas Eve transformation in Perseverance Theatre's adaptation of Dickens' famous book. Ebenezer Scrooge is a greedy businessman, with no place in his life for kindness, compassion, or charity, and destined to a lonely old age. But when four ghosts appear and warn him of a miserable afterlife, Scrooge is reminded of all the chances he had before to make different choices. Charles Dickens' classic tale of redemption skillfully faithfully adapted by Arlitia Jones and Michael Evan Haney never ceases to please.
TYPE OF EVENING
Classic
Holiday Fun
A wonderful family event
WHAT TO EXPECT
A beautiful retelling of the classic tale with lots of music and dancing
COME WITH
Your friends and family
Relatable: If you liked Cyrano de Bergerac, Othello, or Of Mice and Men, you'll love A Christmas Carol.
Presented by Perseverance Theatre.
Perseverance Theatre shows can be included in an Anchorage Concert Association subscription! Select three or more shows and save.