Frogz
Fantastical family fun
---
April 12-13, 2019
Atwood Concert Hall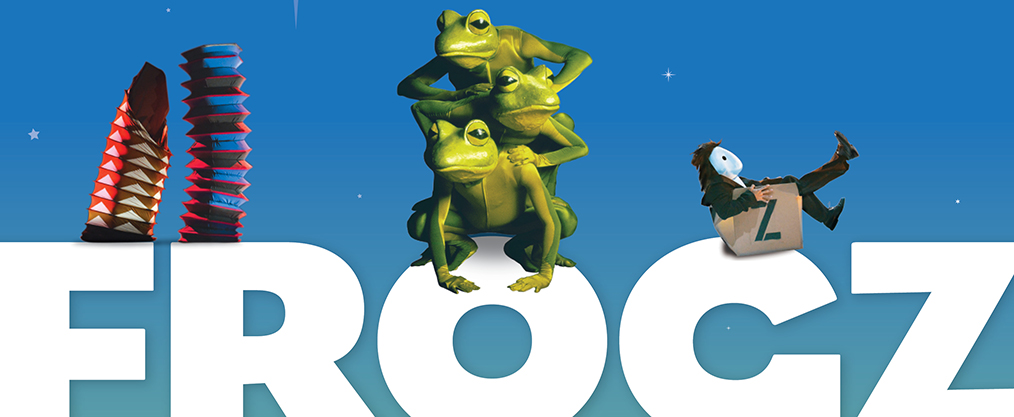 Take a trip to the zoo – on a yet-to-be discovered planet. Whimsical and inventive, Frogz put renowned company Imago Theatre on the international map.
A clever intersection of vaudeville, Cirque du Soleil, and Mummenschanz, its simplicity and charm catapulted the production to two Broadway runs at the acclaimed New Victory Theater. Variety Magazine called it "Felliniesque mayhem."
"A mastery of mime, dance and acrobatics." -The New York Times
Like all truly unique things, Frogz must be seen to be believed. Take a leap with Frogz and discover why this madcap revue of illusion, comedy, and fun has mesmerized more than a million people worldwide.
"Fantastical creatures have enough imaginative sass to keep the adults entertained while the kids are enchanted." -NPR.

Tickets start at $21 for adults and $14 for youth 18 and under with a subscription of 3 or more shows. Tickets for just this show start at $26.75 for adults and $18 for youth.
SHOW TIMES
7:30 p.m. Friday-Saturday, April 12-13
2 p.m. Saturday, April 13
Runs approximately 2 hours including intermission.

TYPE OF EVENING 
All ages delight
Wild, weird, and whimsical
WHAT TO EXPECT 
Breathtaking visual effects
COME WITH
Joy of imagination
IN-THEATRE PERFORMANCES FOR STUDENTS
Schools are invited to come to the PAC to see special performances of Frogz Friday, April 12. Learn more.