Imago Theatre's Frogz
A mastery of illusion, comedy and delight
---
April 12-13, 2019
Atwood Concert Hall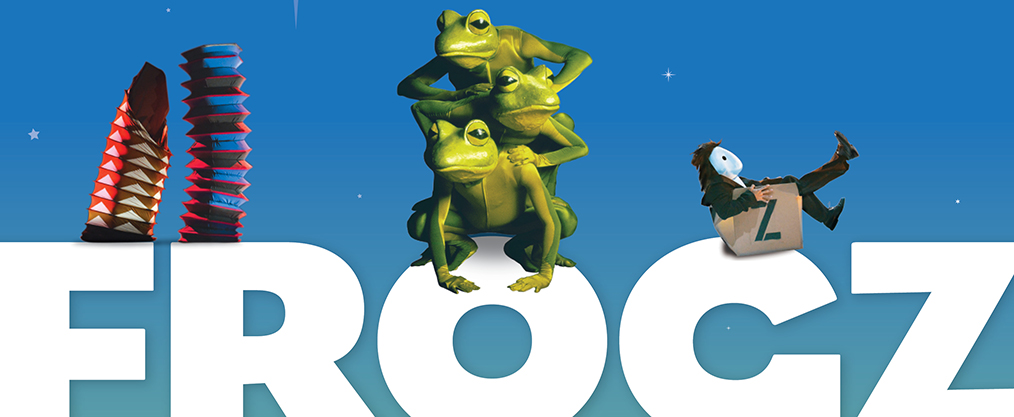 Whimsical and inventive, Frogz put renowned company Imago Theatre on the international map. A clever intersection of illusion, comedy, and delight, the show charms adults and kids alike with what The New York Times called "a mastery of mime, dance and acrobatics … inspired fun!"
With wit and wonder, fantastical creatures and performance evoke smiles, giggles and awe, awakening curiosity and thrilling audiences. "Sure fire entertainment for all ages," raves Boston Herald.
Take a trip to the zoo – on a yet-to-be discovered planet – and discover why this breathtaking theatrical treat has mesmerized more than a million people worldwide.
SPONSORED BY


Tickets for Frogz start at $26.75 for adults and $18 for youth.
"Fantastical creatures have enough imaginative sass to keep the adults entertained while the kids are enchanted." -NPR.
SHOW TIMES
7:30 p.m. Friday, April 12
2 p.m. Saturday, April 13
7:30 p.m. Saturday, April 13

Runs approximately 2 hours including intermission.

TYPE OF EVENING 
All ages delight
Wild, weird, and whimsical
WHAT TO EXPECT 
Breathtaking visual effects
IN-THEATRE PERFORMANCE FOR STUDENTS
Schools are invited to come to the PAC to see a special performance of Frogz Friday, April 12. Learn more.
Q&A WITH CREATOR
In advance of Imago Theatre's return to Anchorage, Frogz co-creator Jerry Mouawad answered a few questions with Anchorage Concert Association. Learn where the idea for Frogz came from.

"embraces the joy of imagination ... mesmerizing" - Variety