Lucky Chops
Music that kicks brass
---
Nov. 9 & 10, 2018
7:30 p.m. // Discovery Theatre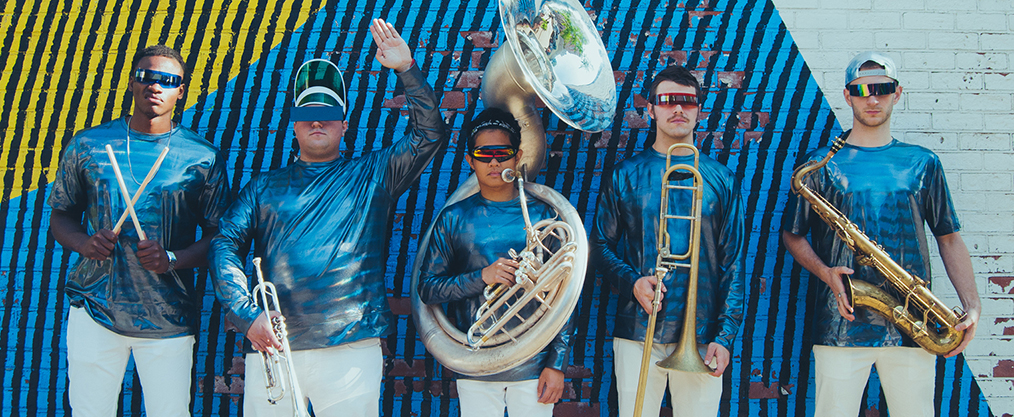 Founded by former students of LaGuardia High (the "Fame" school), NYC band Lucky Chops roars and soars with infectious energy.
After a tourist serendipitously posted a video of their subway busking online in 2015, the ragtag crew rocketed to popularity, gaining over 100 million views and a worldwide fan base seemingly overnight. Now selling out shows from the Bay Area to Berlin, these up-and-comers are unleashing their high-energy brassy funk on the world.
From rollicking original compositions to covers as diverse as "Funkytown," "Helter Skelter," and Adele's "Hello," these explosive juggernauts aim to spread joy and positivity.
"(They're) totally on fire … so full of life … gnarly, punky and funky." -NPR Music
When you hear Lucky Chops live, you just can't help but smile and dance. Lucky you.
Tickets start at $32 for adults and $24 for youth 18 and under with a subscription of 3 or more shows. Tickets for just this show start at $40.25 for adults and $30.50 for youth.
"(They) capture the energy of a rock band and fuse it seamlessly with the dance-ability of an EDM DJ" –Higher Ground Music
TYPE OF EVENING 
Frenetic and feel-good
See-them-before-they're-too-big music night
WHAT TO EXPECT 
Blistering brass superstars that'll get you moving
COME WITH
Infectious energy and your dancing shoes
"blistering brass bad energy" –Paste Magazine

Pre-Show Talk
Join us at 6:30 p.m. Saturday, Nov. 10, for a free pre-show talk and learn more about stories behind the music.