The New Standards Holiday Show
Featuring Special Guests from Alaska
---
Nov. 30 & Dec. 1, 2018
7:30 p.m. // Discovery Theatre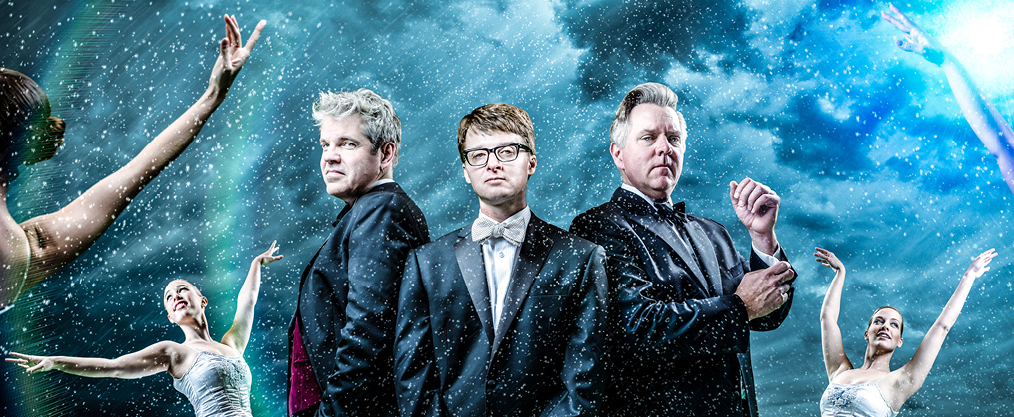 For more than 10 years The New Standards and friends have been dazzling audiences with their soulful, funny, and spectacular holiday show. Ring in the yule with a unique twist on traditional holiday concerts — one part variety show, one part homage to the season, one part irreverent, freewheeling spectacle.
Known for their simple and illuminating concerts that dress up pop and punk classics, The New Standards – Chan Poling (The Suburbs), John Munson (Semisonic), and Steve Roehm – act as ringleaders for a merry troupe of musicians, dancers, and a stunning lineup of surprise special guests featuring local and not-so-local pals.
Expect the unexpected at what will surely become your new holiday tradition.
Tickets start at $32 with a subscription of 3 or more shows. Tickets for just this show start at $40.25.
Featuring special guest artists The Super Saturated Sugar Strings, Pamyua, Quinn Christopherson, and John "Pypes" Teamer
---
Simple, elegant, illuminating.
TYPE OF EVENING 
Holiday variety show
Offbeat humor with heart
WHAT TO EXPECT 
Joy and laughter with new and old friends

COME WITH
Your favorite ugly sweater
Seasonal feelings of warmth and togetherness, tinged with laughter and melancholy

---
Pre-show talk
Join us at 6:30 p.m. Saturday, Dec. 1, for a free pre-show talk about The New Standards Holiday show.