Whale Song
Love, destiny, and prophecy
---
March 8-17, 2019
Sydney Laurence Theatre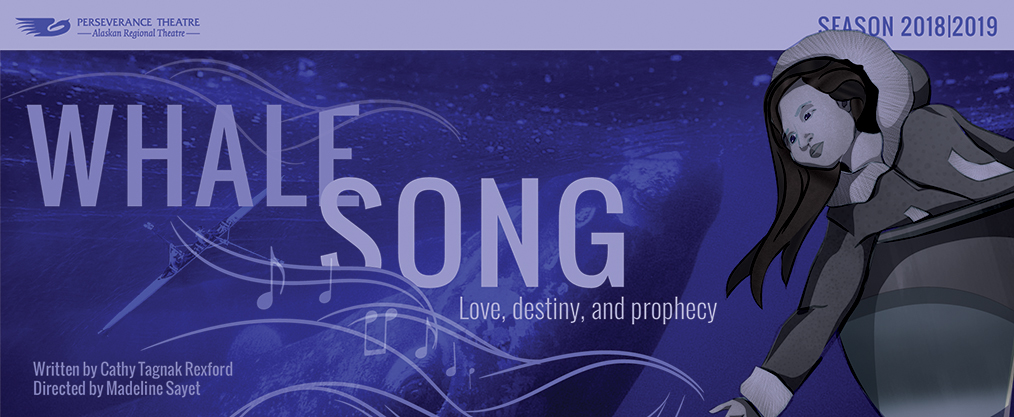 Soon after a young baby is born, her parents learn she has an unusual destiny. In order to save the earth's population of bowhead whales, she will train her whole life for the honor of someday marrying a whale, leaving humanity, and spending her adult life with her new mate. Torn between teenage rebellion, young love, and her innate desire to fulfill her prophecy, she is witness to the near-end of a species and the heartbreak that comes with doing the right thing. Whale Song is a world premiere play by Perseverance Theatre Playwright's Circle member Cathy Tagnak Rexford (Inupiaq).
By Cathy Tagnak Rexford
Directed by Madeline Sayet
TYPE OF EVENING:
A bit mysterious
A bit magical
A great evening with friends
WHAT TO EXPECT:
A world premiere Alaskan play
COME WITH:
Your heart open
If you love compelling stories with deep meaning like Hold These Truths, An Iliad, or They Don't Talk Back, you'll love Whale Song.
Presented by Perseverance Theatre.
Perseverance Theatre shows can be included in an Anchorage Concert Association subscription! Select three or more shows and save.
Perseverance Theatre changed the performance dates of Whale Song to March 8-17, 2019. If you purchased tickets to this show through an Anchorage Concert Association subscription with the October dates, you will receive if refund through your original payment. If you do not receive the refund by Monday, July 9, please call the Anchorage Concert Association at 907-272-1471. Thank you.