Kalani Pe'a
Soothing island songbird
---
Friday, Jan. 31, 2020
7:30 p.m. // Discovery Theatre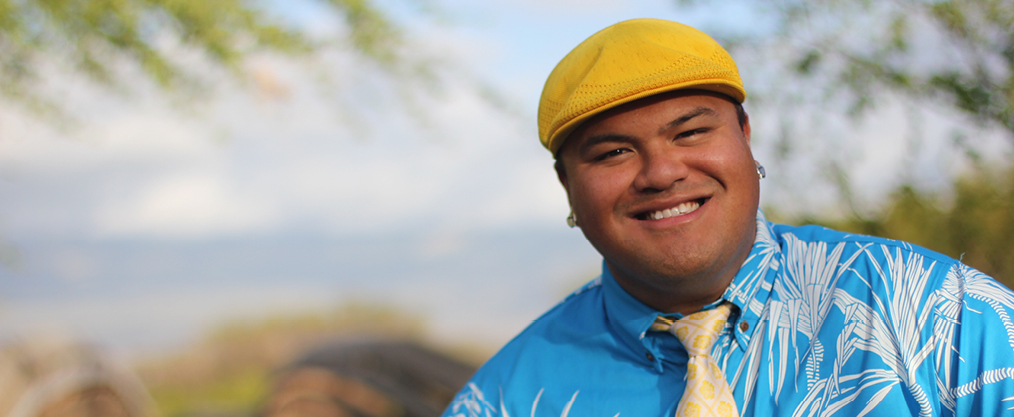 Like the warm waters that surround his home in Maui, the music of Hawaiian singer Kalani Pe'a comforts, relaxes, and transports you into peacefulness.
The two-time Grammy winner is influenced by Hawaiian music, but he isn't a strict traditionalist. He grew up listening to roots music and R&B, and both feature strongly in his sound. Pe'a's lyrics champion island identity and culture, and he sings in Hawaiian and English – hitting notes as high as Mauna Kea's peak.
Self-described as "Hawaiian contemporary soul," he sings with a passion that's as inspirational as his personal story. Singing helped Pe'a conquer a childhood speech impediment, and he has embraced art ever since. Let Pe'a wash over you like lapping shoreline waves.
Accompanied by acclaimed artists Aiau Koa (guitar) & Wailau Ryder (bass).

TYPE OF EVENING 
A bit of Hawaiian heaven
Island escape
WHAT TO EXPECT 
One of Hawai'i's brightest new stars
COME WITH
Warm embrace of aloha
SPONSORED BY


Supported in part by a grant from the Western Arts Alliance Advancing Indigenous Performance Touring Fund and the Andrew W. Mellon Foundation. This project also received support from Alaska State Council of the Arts, WESTAF (the Western States Arts Federation), and the National Endowment for the Arts.
Online subscriptions for this show are now closed. Call Anchorage Concert Association for options to include this show in a subscription of three or more shows: 907-272-1471.