STOMP
The Smash Hit Returns
---
Feb. 1-6, 2022
Atwood Concert Hall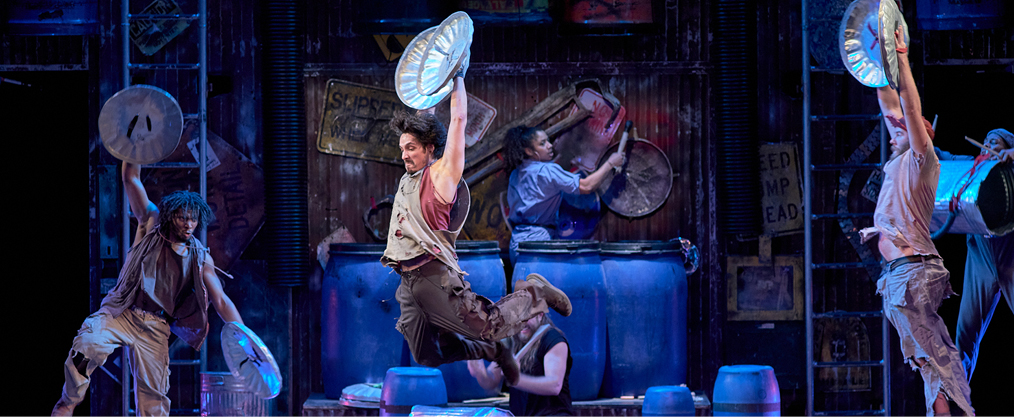 Brooms synchronize into a sweeping orchestra, Zippo lighters create a fiery fugue, and wooden poles thump and clack in a rhythmic explosion. Broadway's literal smash hit STOMP returns to Anchorage, fusing high-voltage dance, music and theatre into one electrifying rhythm. Since its beginnings as a street performance over 20 years ago, STOMP has become an international percussion sensation, thrilling over 20 million people on 6 continents. Inventive and invigorating, the kinetic troupe uses everything but conventional instruments – matchboxes, garbage cans, even hubcaps – to fill the stage with magnificent beats. The return of the percussive hit also brings some new surprises. It's safe to say you'll never look at shopping carts or plumbing fixtures the same way. "An indescribable primal journey" (Chicago Tribune), STOMP "finds beautiful noises in the strangest places" (USA Today). Come to STOMP and see what all the noise is about.
Type of evening:

Anything-but-conventional date night
Family fun
Electrifying evening out
What to expect:
Surefire crowd pleaser that's pure fun for all ages
Energizing beats that'll have you rocking out in your seat
Magical music made from anything and everything – even the kitchen sink
Come with:
Those who march to the beat of a different drummer
Raw energy
Your senses ready for high-octane yet hypnotic ride
SHOW TIMES
Tuesday, Feb. 1 - 7:30 p.m.
Wednesday, Feb. 2 - 7:30 p.m.
Thursday, Feb. 3 - 7:30 p.m.
Friday, Feb. 4 - 7:30 p.m.
Saturday, Feb. 5 - 2:00 p.m.
Saturday, Feb. 5 - 7:30 p.m.
Sunday, Feb. 6 - 2:00 p.m.
Sunday, Feb. 6 - 7:30 p.m.