Uno Jazz Orchestra
Summer Concert Series
---
Thursday, June 15, 2023
7pm // Nunaka Valley Park (at Moose Hill)
Sponsored By: Atwood Foundation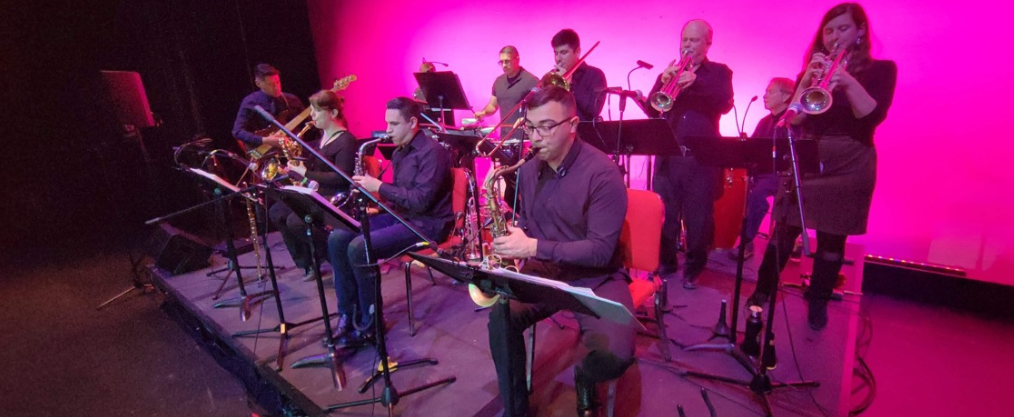 Anchorage Concert Association is proud to present the Uno Jazz Orchestra live at Nunaka Valley Park (at Moose Hill) for the Summer Concert Series 2023 - bringing live music right to your neighborhood. This concert will also feature a special performance by Anaya Latin Dance and Papaya Tree will have food available for purchase.
ABOUT THE SUMMER CONCERT SERIES
The Summer Concert Series features local artists in neighborhoods across Anchorage. A partnership with Anchorage Concert Association and Anchorage Park Foundation, this free concert series brings people together in their own neighborhoods to enjoy live music and the beauty of our parks and trails. The Summer Concert Series is sponsored by Atwood Foundation.
ABOUT UNO JAZZ ORCHESTRA
The Uno Jazz Orchestra is an Anchorage based Latin Jazz band. The band began when a group of friends from South Texas moved to Anchorage Alaska. They missed the live latin music scene they grew up in and decided to form a band here in Alaska. They started the UNO Jazz Orchestra. The goal was to form a band with grounds in Jazz music, while still reflecting their Latin musical roots. Unsure of how well latin music would be received in Alaska, they advertised their first show as "jazz music". After sneaking salsa tunes into their set, they realized salsa music was well-received by Alaskan audiences. From then on, their main focus became developing their Latin Jazz sound. UNO specializes in genres such as Salsa, Cha Cha Cha, Bossa Nova, and American Jazz. The band performs both their own Latin Jazz arrangements and original compositions. Their shows often incorporate local Latin dance teams who animate their music. You can also catch UNO performing for local dance social events and dance parties. UNO is currently the only Salsa band in all of Alaska and is eager to share the music of their culture with the 49th state.