The Nutcracker 2017
Featuring Eugene Ballet
---
November 24-26, 2017
Atwood Concert Hall
Sponsored By: ConocoPhillips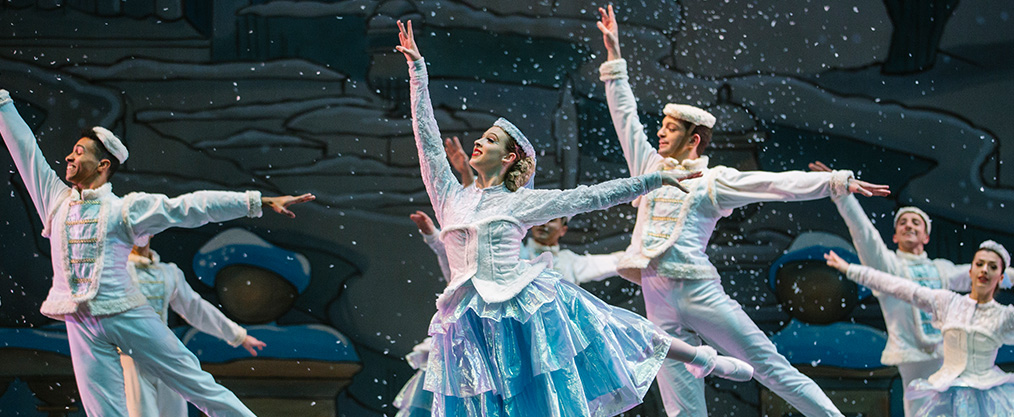 You're invited to Anchorage's most enduring holiday tradition! Feel the warmth and wonder of the holiday spirit when the curtain goes up on The Nutcracker this Thanksgiving weekend.
Whether it's a cherished start to the season or you're introducing your children or grandchildren to the Mouse King and Sugar Plum Fairy for the very first time, this fantastical masterpiece will transport you to a magical wonderland.
The beautiful and elegant Eugene Ballet dances to live music from the Anchorage Symphony Orchestra, alongside young Alaska dancers coordinated by Alaska Dance Theatre. Take a break from fighting with tangled strings of lights, put on your festive best, and enjoy a holiday outing you and your loved ones will remember always.

SPONSORED BY


"Made me want to learn dance!" –Emily
TYPE OF EVENING
Family Fun
Holiday Hit List
WHAT TO EXPECT
World-class athletes spinning a magical fairy tale
COME WITH
Plenty of holiday spirit
NUTCRACKER SHOW TIMES
2 p.m. and 7:30 p.m. Friday-Saturday, Nov. 24-25
1 p.m. and 5:30 p.m. Sunday, Nov. 26
All performances in the Atwood Concert Hall at the PAC
Runs approximately 2 hours including intermission.
Recommended for ages 6 and older.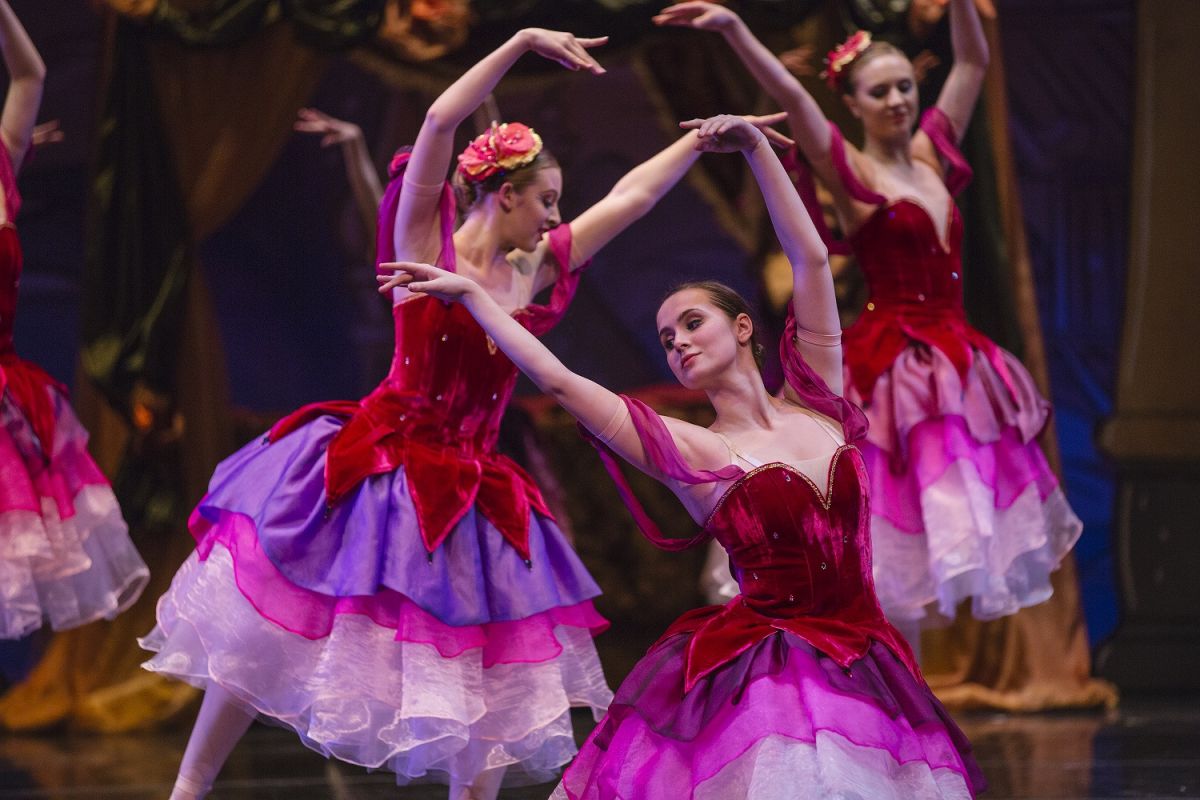 "A wonderful way to introduce the kids to a timeless ballet. Sumptuous set, lovely costumes and exquisite dancing all made for a memorable 'first' for the kids. The Mouse King scene was their favorite."
–Alyssa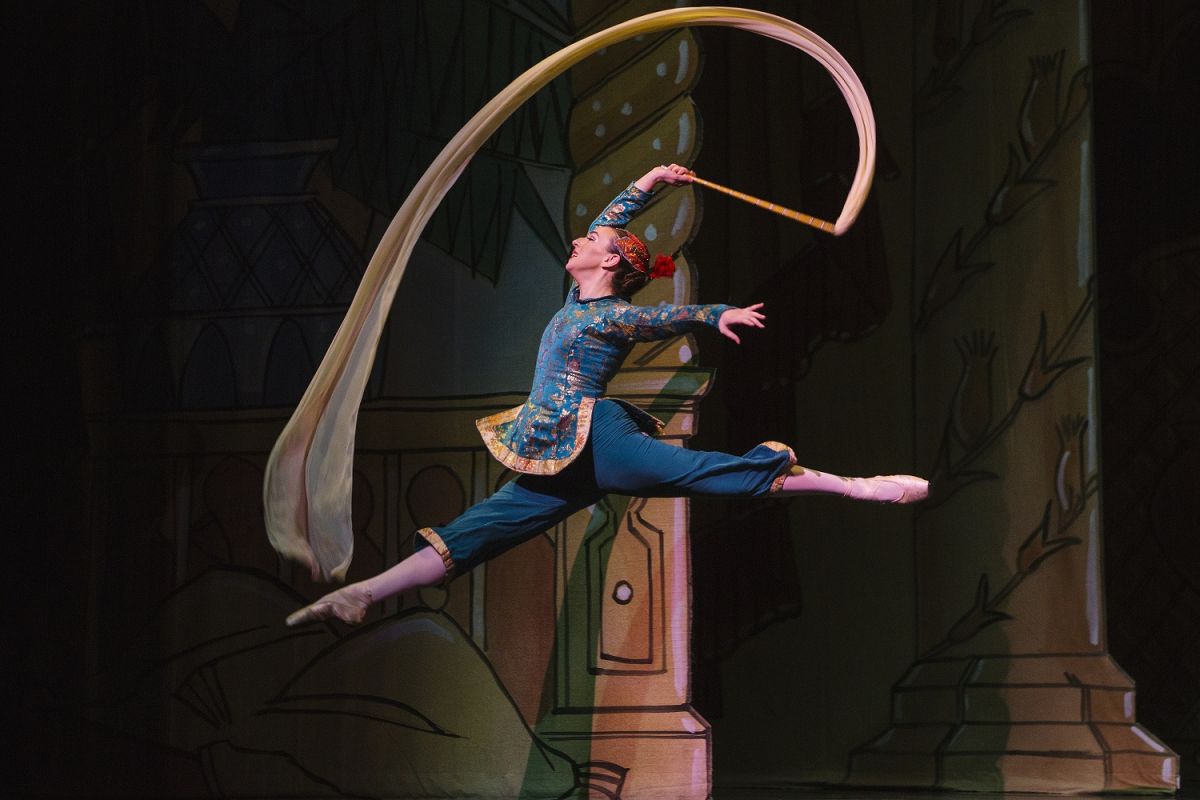 "It is always amazing to see and hear the beautiful art that humans are capable of. Inspiring and moving and amazing in every way. Performing arts like this just make you feel good inside."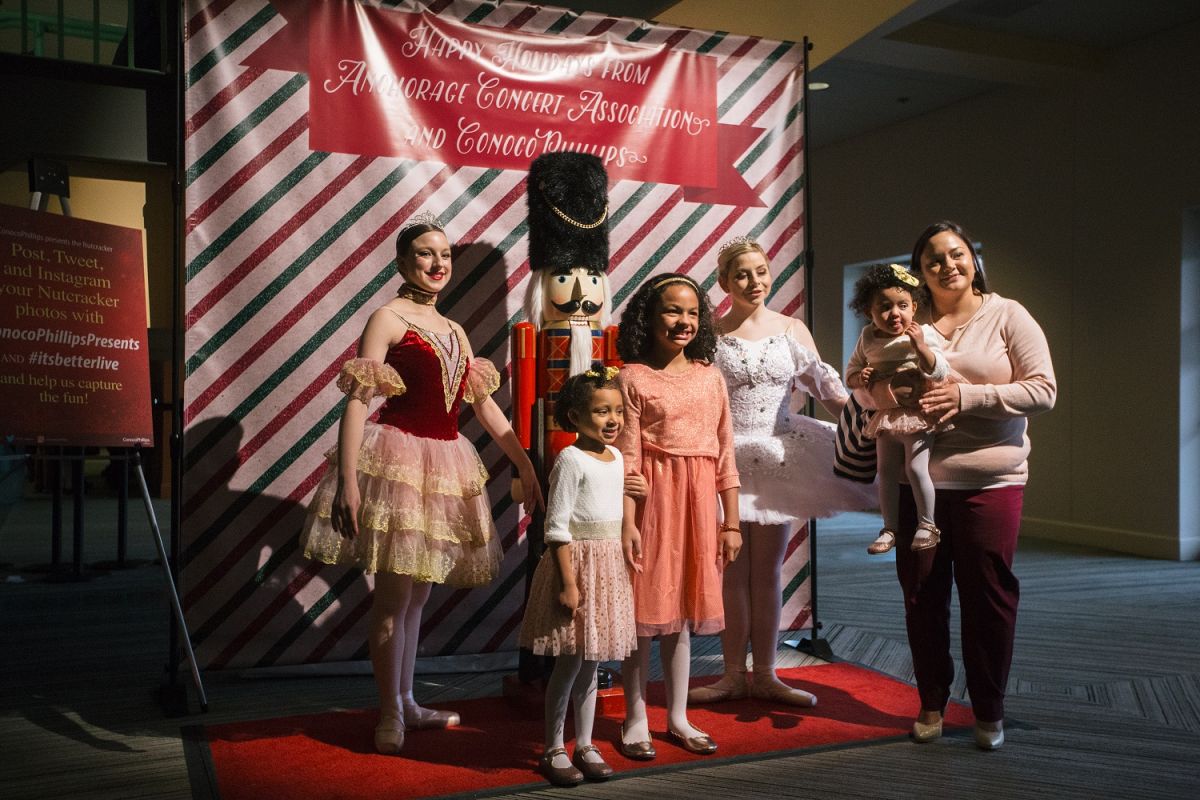 NUTCRACKER COLORING SHEETS
Download our Nutcracker coloring sheet to print at home.

NUTCRACKER TEA PARTY
Enter to win a tea party for your child and seven of their friends at Summit Spice & Tea on Nov. 19, and 8 tickets to the Friday evening performing of The Nutcracker. Tea provided by Summit Spice & Tea and macarons provided by Sweet Caribou. Winner will be contacted Nov. 8.
TREE LIGHTING
Anchorage Downtown Partnership hosts the Holiday Tree Lighting Ceremony 5:15-7:30 p.m. Friday, Nov. 24, in Town Square Park, adjacent to the performing arts center.
"My granddaughter, age 3, just began ballet classes. She danced all afternoon when we got home. She plans to be up on that stage someday too." –Bonnie

"I saw The Nutcracker when I was a little girl and wanted to share the experience with my husband. I'm so glad I was able to do just that!"
NUTCRACKER STORE
Take home souvenir treasures and keepsakes to celebrate the season.
Opens one hour prior to show start time
HISTORY
The Nutcracker first premiered in St. Petersburg, Russia at the Mariinsky Theater on Dec. 18, 1892. More than 120 years later, The Nutcracker has become a long-held Christmas tradition in America, enjoyed by families across the country.
DANCE FOR THE AGES
More than 90 local dancers join Eugene Ballet for The Nutcracker performances in Anchorage. Alaska Dance Theatre coordinates these young ballerinas, who have been rehearsing for months. Several years ago Mike Dunham with the Alaska Dispatch News interviewed dancers about their participation.
"One day I was riding in the car and I said, 'Mom, I want to be in 'The Nutcracker.'' It's cool to be in an actual production instead of just a student showcase. Before I go on stage I get nervous because I don't want to make a fool out of myself. When I get on stage, I forget all that."
- Vivienne, 6th grade, 6 years dancing, 1 "Nutcracker"
"I like the way it makes me feel alive. You can be in the moment. You don't have to think about it. You slide across the stage and it's so magical to see the way it all comes to life."
-Samantha, 10th grade, 12 years dancing, 2 "Nutcrackers"
"I wanted to be a ballerina when my dad showed me pictures of one. She was so pretty and poised and princessy. At first I was kind of scared about dancing in Atwood; it's so big. But after a while it was like home.
-Kristina, 7th grade, 9 years dancing, 4 "Nutcrackers"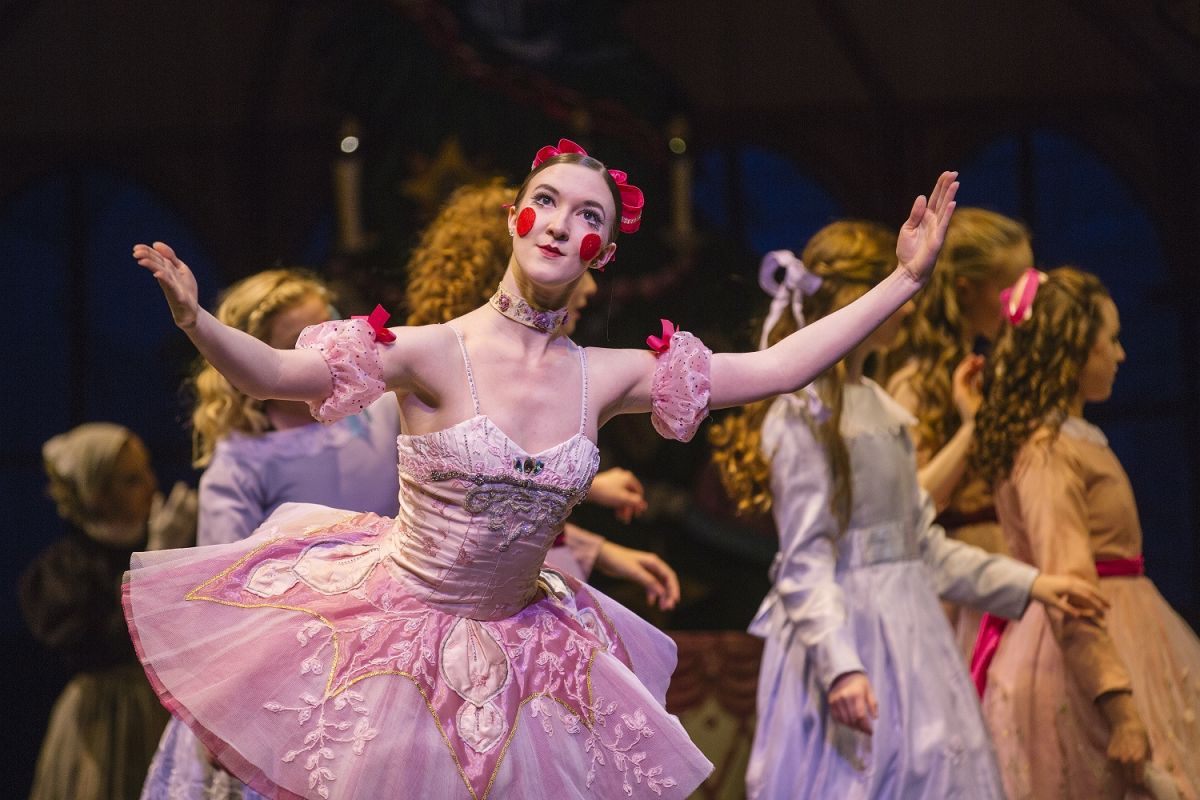 THE NUTCRACKER STORYLINE
Based on E.T.A. Hoffman's tale, The Nutcracker and the Mouse King (1861).
Prologue
Herr Drosselmeyer, a well-known toy maker in the town of Kleindorf, prepares to depart for the Stahlbaum's annual Christmas party. His nephew, Hans, assists in the shop serving last minute customers and packing boxes. Drosselmeyer puts the finishing touches to a Nutcracker doll, a gift for the Stahlbaum's daughter, Clara. Meanwhile, out in the street two families are on their way to the party. At the Stahlbaum's home the children's governess helps an excited Clara dress for the Christmas party. Clara receives a fan from her parents, as she is now becoming a young woman. Fritz, her younger brother, bursts into the bedroom. He is very excited about his Christmas gift, a hobbyhorse. Drosselmeyer and Hans are on their way to the Stahlbaum party.
ACT 1—The Christmas Party
At the Stahlbaum Christmas party the children are given gifts from underneath the tree. Herr Drosselmeyer and Hans arrive in the midst of the festivities. It becomes clear that Hans admires Clara. However, Fritz keeps pestering them. He does not understand that both Hans and Clara are growing up. Drosselmeyer performs some magic tricks to entertain the children. Clara gives Hans a Christmas gift of a scarf. Then, two mysterious boxes arrive. Each box contains two large mechanical dolls created by Herr Drosselmeyer to entertain the children. After the dolls have been put away, Drosselmeyer gives a nutcracker to Clara and Fritz becomes jealous. He snatches the nutcracker from Clara and breaks it. Clara is upset, but Hans comforts her as Drosselmeyer mends the nutcracker doll. It is time to go home and Hans gives Clara her first kiss as he prepares to depart.
The Dream: The Mouse Kingdom
Clara goes to bed with her nutcracker tucked under her arm. She "wakes" to discover her bed is being spun by two large mice in the living room. They chase Clara out of her bed and around the room. As Clara tries to escape, the room transforms into a Mouse Kingdom before her eyes. Clara runs to the clock where she hides her nutcracker inside the casement. Mice appear from everywhere and chase her until she falls in front of the clock. The clock explodes and turns into a sentry box with a life-size Nutcracker inside. The mice drag Clara away from him as the Mouse King arrives in a pirate ship. Clara is hauled aboard by the nasty rodent while The Nutcracker calls on his troops to fight the mice and rescue Clara. A terrific battle ensues between The Mouse King and The Nutcracker. Just as The Mouse King is about to kill The Nutcracker, Clara hits the Mouse King with her slipper. The Dream: The Snow Kingdom Clara finds herself alone in a winter scene except for The Nutcracker lying where he fell. She runs to him and shakes him. She begins to cry, believing he is dead. He stirs and rises up. Clara sees that he is Hans, Drosselmeyer's nephew, dressed as a handsome soldier. Hans takes her hand and they begin to dance. Clara, trusting of Hans, takes his hand and climbs onto a horse. As they travel across the frozen lake, they have a wonderful time watching the friendly skaters.
ACT 2—The Dream: The Land of the Sweets
Hans takes Clara to the Land of the Sweets, her reward for saving The Nutcracker from the Mouse King. As they arrive, Hans and Clara are greeted by the Sugar Plum Fairy and her Cavalier. The Cavalier gives Hans a gift for coming to Clara's rescue. Clara is entertained with a festival of dances in her honor. Dancers from Spain, Arabia, China and Russia perform for her. Hans rises and invites Clara to join a group of beautiful women in a waltz. The Sugar Plum Fairy and her Cavalier dance a grand pas de deux just for Clara. All the magical characters join in a final dance. Clara's mind races as the dancers whirl about her. Suddenly, she wakes to find herself sitting in her bed clutching her nutcracker doll. To her surprise Clara sees that her little nutcracker doll is now wearing a cloak—and she wonders, was it really a dream?