Kanekoa with H3
Summer Concert Series
---
Thursday, June 30, 2022
6:30-8pm // Davis Park
Sponsored By: Atwood Foundation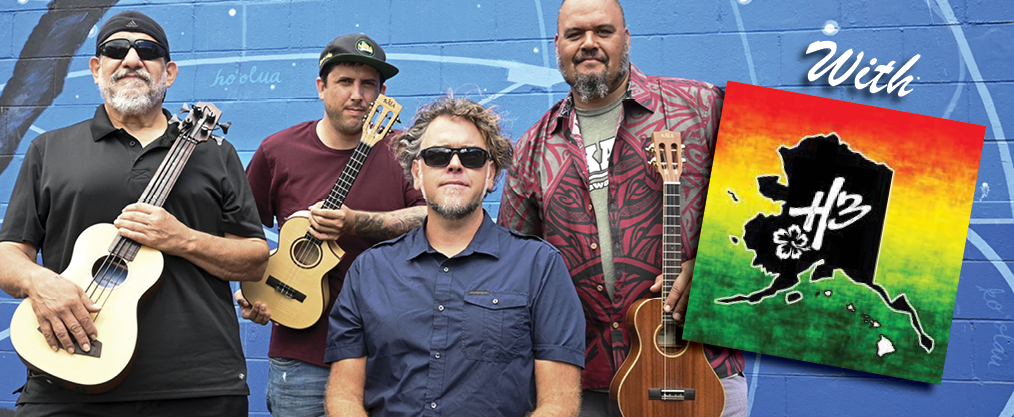 Anchorage Concert Association is proud to present Kanekoa with H3 live at Davis Park for our Summer Concert Series 2022 – bringing live music right to your neighborhood.
Da Poke Man Express and Jerome's Kitchen will have food available for purchase.
ABOUT THE SUMMER CONCERT SERIES
The Summer Concert Series features local artists in neighborhoods across Anchorage. A partnership with Anchorage Concert Association and Anchorage Park Foundation, this free concert series brings people together in their own neighborhoods to enjoy live music and the beauty of our parks and trails. The Summer Concert Series is sponsored by Atwood Foundation.
About Kanekoa
To hear Kanekoa is to love them. One of Hawaii's premier live music experiences, Kanekoa's island jam-rock is redefining the power and possibility of the ukulele, much like local legend (and collaborator) Jake Shimabukuro. Infusing the four-stringed instrument with eclectic roots and flavors of reggae, blues, funk, jazz, and island music, these ukulele innovators are as much inspired by Hawaiian greats as Led Zeppelin and the Allman Brothers Band.
They will be returning Nov. 11 to perform in the Discovery Theatre as part of our 2022/2023 mainstage season.
About H3
H3 is a Polynesian Reggae band based in Anchorage, Alaska. H3 signifies the three-part harmonies sung by the three original band members--Tau Vaaia Fakaoti, Shaun Pacarro, and George Noga. H3 also refers to the highway in Hawaii (Interstate H-3).