Two Ways to Subscribe
---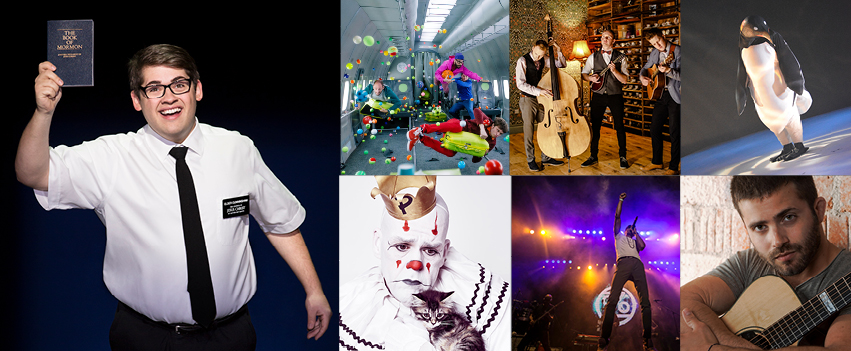 Subscribe Now
Renew your Broadway seats
1. Broadway in Anchorage

Passionate about Broadway shows? See all 3 Broadway productions for as little as $141. The 2018/2019 season includes:

You receive the same benefits as Pick-a-Pack subscribers, plus the option to save your seats from year to year. You can also add on other Anchorage Concert Association shows to your Broadway subscription.

Deadline for 2017/2018 Broadway in Anchorage Subscribers to renew their seats is Friday, June 29, 2018.
2. Pick-a-Pack
Choose from more than 25 shows - it takes only 3 to become a season subscriber!

Save up to 10% with 3-4 shows, up to 15% with 5 or more.
Exchange tickets for another time or show.
Get priority access to the best seats.
Pay as little as $80 to see 3 great shows!
---
Sensational Savings
Save up to 10%-15% on tickets
No box office fees - which saves up to $9 per ticket
Discounts on additional tickets purchased during the season
Priority Seating
Renew or purchase your subscription before individual show tickets go on sale in August and get priority access to the best seats.
New this year: Choose your own seats when you subscribe online!

If you prefer to subscribe over the phone or in person, we will document all your seating preferences and do our best to accommodate your wishes. To take advantage of the choose-your-seats subscription option online, you'll need to subscribe before single tickets go on sale this summer.
Flexible Scheduling
Enjoy our flexible ticket exchange policy. Up to 24 hours before the scheduled performance, trade in your tickets for a different performance of the same show (e.g. trade the Saturday matinee for the Wednesday evening) or for a different show entirely (e.g. trade Puddles Pity Party for Lucky Chops).
Bonus conveniences
No standing in line for tickets
First alerts about special events and offers
Free lost or stolen ticket replacement