Cirque Mechanics Pedal Punk
A Mischievous Circus on Wheels
---
Friday-Saturday, April 7-8, 2017
Atwood Concert Hall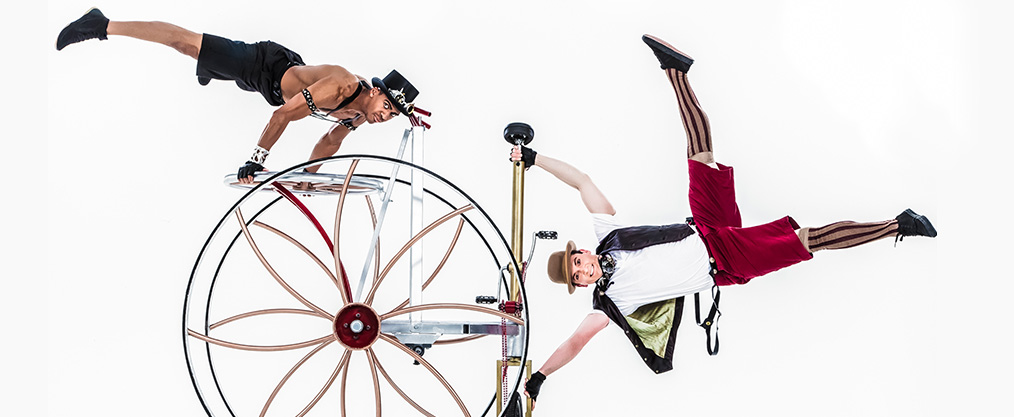 Circus acrobatics, mechanical wonders, and a bit of clowning around – enter the world of "Pedal Punk," a Steampunk-inspired place where cycling is the way to escape the technology-obsessed society. Experience the excitement, artistry, and thrill that occur when a wacky bike shop mechanic interacts with cyclists and bikes. He repairs more than broken pieces; he creates wondrous machines and inspires the cyclist in us all to become a Pedal Punk. Cirque Mechanics has established itself as a premiere American circus, with its unique approach to performance, inspirational storytelling, and innovative mechanical staging. Pedal fast, don't walk, to this highly unique performance.
Three performances:
Friday, April 7, 7:30 pm
Saturday, April 8, 2 pm
Saturday, April 8, 7:30 pm
Tickets start at $32.50 for adults and $18 for youth 18 and under.
Performance for K-12 students - Friday, April 7, 10 a.m. or 12 p.m. Learn more and register
Cirque Mechanics Pedal Punk Study Guide

If you like Cirque Mechanics Pedal Punk, check out ACA All Access, Grease, The Nutcracker, Intergalactic Nemesis, Versa-Style, and Billy Elliot.
Sponsored by: