WindSync
A Quintet You Won't Forget
---
Friday, February 24, 2017
7:30 pm // Discovery Theatre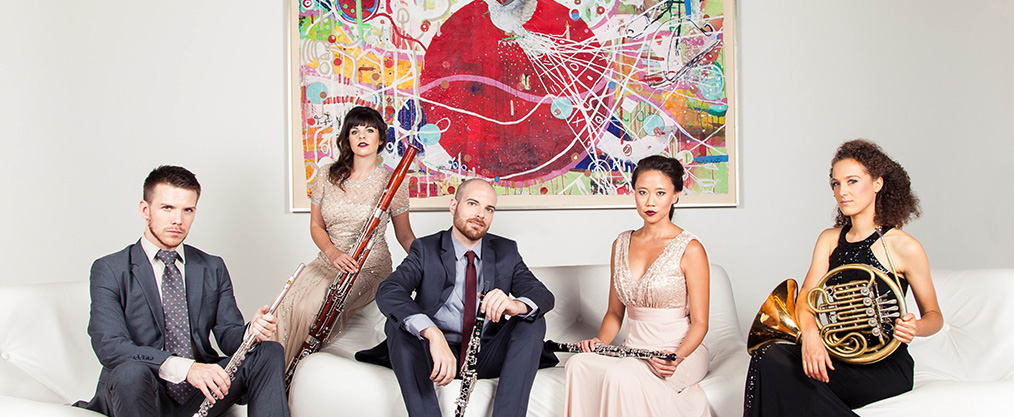 The classical wind quintet WindSync blends charismatic stage presence with youthful, pop-rock sensibility. The five virtuoso players bring a spirited energy to the flute, oboe, clarinet, French horn, and bassoon, and perform exclusively from memory, allowing them to engage with their audience. A symphonic voyage with WindSync features a diverse range of works, from masters such as Mozart, Stravinsky, and Dvořák to American icons Gershwin, Copland, and Bernstein, and even music by Billy Joel and Radiohead. WindSync has appeared at prestigious venues around the world, including Carnegie Hall and the Metropolitan Museum of Art. They were hailed by their hometown Houston Chronicle as "revolutionary chamber musicians." WindSync's creative concerts inspire and entertain audiences of all ages. This is a must-see for classical music fans.
Wed., Feb. 22: Masterclass with WindSync - Alaska Music & Sound, home of the Horn Doctor. 7-9 pm. See Facebook event

Friday, Feb. 24: Pop-Up Performance at the Museum - Anchorage Museum at Rasmuson Center, 625 C St, 1-1:30 p.m. See Facebook event

If you like Windsync, check out ACA All Access, Women of the World, The Nutcracker, Simply Three, and Portland Cello Project.
Sponsored by: