5 Questions with Garrison Keillor
---
What is the storyteller's favorite thing about visiting Alaska?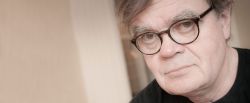 Storyteller Garrison Keillor, coming to Anchorage for a show April 12, took the time to answer a few questions with the Anchorage Concert Association.

How many times have you been to Alaska?
Many. I'd have to count. There was the time I landed in a rainstorm at Juneau airport and thought my life was about to end. The time I encountered a moose while on the bike path in Anchorage. The summer I flew up to go fishing for salmon and saw a humpback whale fifty feet off starboard. The time I hiked up the Iditarod trail. The time I did a show and couldn't figure out how to end the monologue and we were on live radio and finally I just said, "Good night, everyone" as the ON AIR light went out. There was the trip to Kotzebue above the Circle where I saw refrigeration units used in the foundation of a large building to keep the permafrost permanent. And the time I visited a gold-mining operation operated by a man and his wife out in the wild who were taciturn when I arrived and after a couple hours were reluctant to let go of us visitors. And the fair at Palmer. And Sitka where they have a harbor seal whom they name Earl and who is usually eaten by killer whales but another seal appears, and seals do look alike, so they call the new one Earl, and in this way they make him immortal.

What are some of your favorite things about visiting Alaska?
Everyone has a story and unless they're in a big hurry, they'll tell it to you, at least part of it. I've heard stories of Minnesotans who screwed up badly in Minnesota, were wild kids and wild adults, got terrible reputations, and then escaped to Alaska, to some remote community where nobody knew a thing about them and where, one day, the community needed something from them ---- to drive a school bus, to be mayor, to run the snowplow ---- and it changed their lives completely. The idea that someone can be redeemed by the simple fact of being needed is appealing to me.

For those of us that haven't seen your live show, how would you describe it?
It's just a man walking around the stage talking about what's on his mind and ever so often he launches into a story that leads to another story. There are also some poems and jokes. Maybe a murder ballad. Limericks.

For those of us that have had the pleasure of seeing your show before, what's something new we can expect?
I hope I remember to tell the story of the first girl I ever loved.

Why do you feel it is important to come to Anchorage and share stories with us?
I only come because I was invited, which means that somebody thought you might want to hear the stories. I would never be so brazen as to go uninvited.

The Anchorage Concert Association invites you to hear some stories, poems, limericks and perhaps a murder ballad with "Garrison Keillor: Just Passing Through," 7:30 p.m. Wednesday, April 12, at the Atwood Concert Hall. Get tickets at the CenterTix box office (907-263-2787) and anchorageconcerts.org.