Tickets for federal workers during shutdown
---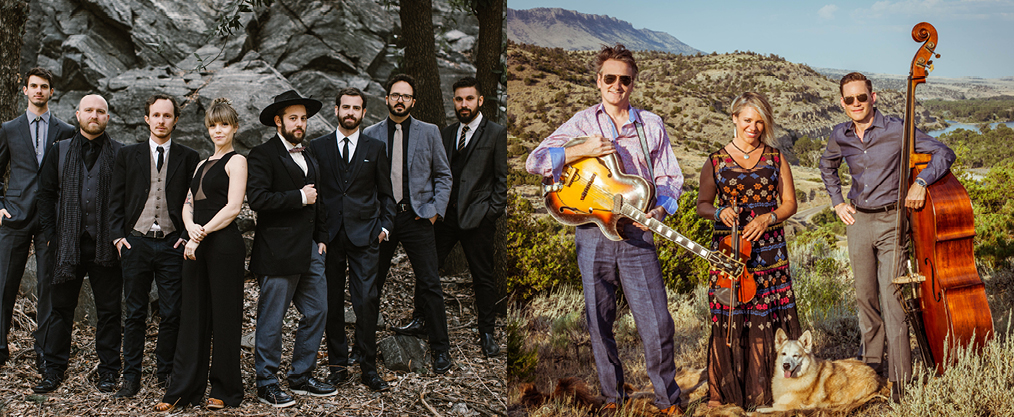 Government employees can experience two concerts at no cost
ANCHORAGE, AK – Anchorage Concert Association is offering free tickets to Jan. 19 show with Dustbowl Revival and Hot Club of Cowtown and Jan. 25 concert with Kaumakaiwa Kanaka'ole to federal workers affected by the government shutdown.
"Performing arts can bring light during the dark days of winter. I hope a night out with some great live music can spark joy to those who need it right now," said Jason Hodges, executive director of Anchorage Concert Association.
In celebration of the 50th anniversary of The Band, two of today's defining American roots groups will join in Anchorage for an evening of their own songs and a special tribute to "Music from Big Pink" and "The Band." The title of the double-bill show, "Across the Great Divide," is from a song by The Band that, according to Rolling Stone critic Greil Marcus, is meant to "cross the great divide between men and women, between the past and the present, between the country and the city, between the North and the South."
Eclectic octet Dustbowl Revival blends folk-Americana and Stax-era soul into a genre-hopping, time-bending dance party. With strings, brass, dueling vocals, and more, the winners of "Best Live Band" by L.A. Weekly exemplify everything shows should be: "hot, spontaneous, engaging and, best of all, a pleasure to hear."
Joining them is Austin-based trio Hot Club of Cowtown, which delivers hot jazz and Western swing light and tight, like tumbleweeds made of velvet. Inspired by European hot jazz and vintage American roots music, these Texas Western Swing Hall of Famers have shared stages with Bob Dylan, Willie Nelson, and Roxy Music.
Heralded as the emerging voice of Hawaii's new generation, Kaumakaiwa Kanaka'ole's songs and chants in her native language are steeped in the island's lush landscape, her heritage, and her history. From a family whose contributions to Hawaiian art and culture stretch back eight matrilineal generations, Kanaka'ole's range is as remarkable as Hawaii's ancient traditions. She deftly transitions from booming contralto to sharp soprano − she calls the latter her "skinny girl voice" − and also incorporates dance. Her performances range from soulful to sly as she sprinkles her songs with playful commentary and storytelling. Award-winning musician and producer Shawn Pimental accompanies her on guitar and backup vocal
Dustbowl Revival and Hot Club of Cowtown: Across the Great Divide is 7:30 p.m. Saturday, Jan. 19 in the Atwood Concert Hall, presented by Anchorage Concert Association. Kaumakaia Kanaka'ole performs at 7:30 p.m. Friday, Jan. 25, in the Discovery Theatre. Federal employees can show their government ID in person at the CenterTix box office in the Alaska Center for the Performing Arts for free tickets. Tickets for the general public are available at CenterTix box office (263-ARTS) and anchorageconcerts.org.
ANCHORAGE CONCERT ASSOCIATION
Anchorage Concert Association is the largest arts and entertainment presenter in Alaska. With a mission to inspire and enhance community through the performing arts, Anchorage Concert Association presents internationally acclaimed artists from the entire spectrum of the performing arts. Learn more at anchorageconcerts.org.