Anchorage high school student gets internship with Cinderella production team
---
Technical supervisor mentors teen as show prepares for national tour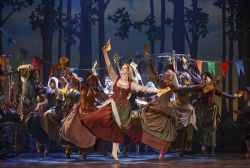 ANCHORAGE, AK – Rodgers + Hammerstein's Cinderella will launch this year's national tour from Anchorage and one lucky teen gets to see the magic behind the dazzling production and jaw-dropping transformations.
Jayci Vandehey, a senior at Service High School and member of Anchorage School District's Gifted Mentorship Program, is studying technical aspects of Broadway musical theatre with Mackenzie Foster, production coordinator for the national Cinderella tour. Foster will mentor Vandehey at the theatre for the next couple of weeks. Cinderella opens Tuesday, Oct. 24 and is presented in Alaska by the Anchorage Concert Association.
"Musical theatre incorporates so many artistic elements – music, dance, drama, art, lightning, costume design. Getting behind-the-scenes access with professionals who stage shows across the country is such a wonderful opportunity. We're grateful to Cinderella's team to work with us and the Anchorage School District to make this unique opportunity happen," said James Fredrick, Community Engagement Director, Anchorage Concert Association.
The Gifted Mentorship program is for 11th- and 12th-grade students who have the self-discipline and interest to pursue independent study under the direction of a professional/expert in a field of great interest to the student. The mentor, student and ASD coordinator design a curriculum of activities and projects that expose the student to real-life work situations as well as the latest information and technology in the field. Students receive half an elective credit for the mentorship when they successfully complete a range of requirements.
Believing in the transformational power of the arts, the Anchorage Concert Association continues to seek out opportunities to inspire and enhance the community through the performing arts, with educational outreach, community workshops with visiting artists, pop-up performances with local artists, pre-concert discussions, and more. By connecting Alaskans to the world of artistic possibility, Anchorage Concert Association hopes to create a more vibrant and enriched community.
The Anchorage Concert Association presents Rodgers + Hammerstein's Cinderella, the 2013 Tony® Award-winning Broadway musical from the creators of The King & I and The Sound of Music, Oct. 24-29 in the Atwood Concert Hall. Tickets start at $49.25 for adults, or $37 with an Anchorage Concert Association subscription package of 3 or more shows. Tickets available at CenterTix box office and anchorageconcerts.org.
ANCHORAGE CONCERT ASSOCIATION
The Anchorage Concert Association is the largest arts and entertainment presenter in Alaska. With a mission to inspire and enhance community through the performing arts, the Anchorage Concert Association presents internationally acclaimed artists, from big Broadway musicals to indie bands.
ANCHORAGE SCHOOL DISTRICT
The Anchorage School District (ASD) educates almost 48,000 students in the southcentral Alaska communities of Anchorage, Eagle River, Chugiak and Girdwood. ASD has more than 130 schools and programs and is one of the 100 largest school districts in the country. Learn more at www.asdk12.org.
###