Bringing Kids to the Theatre
---
Top 3 tips for a great experience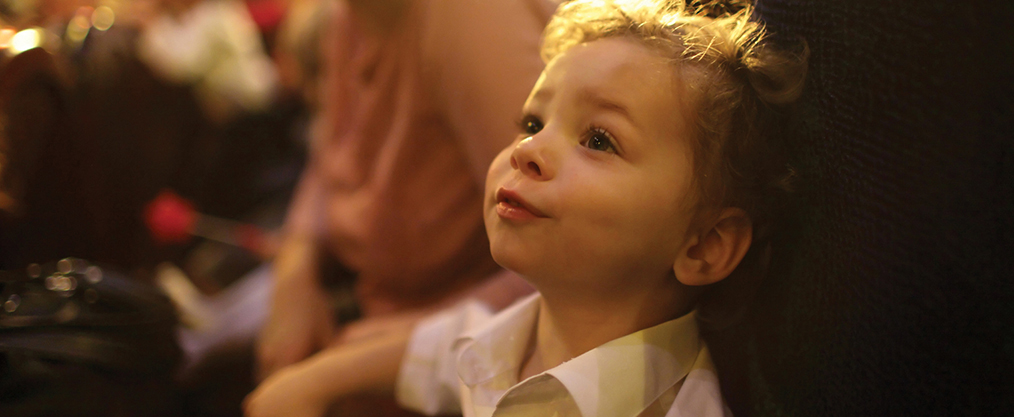 Sharing live performing arts with young ones can be a joyous time – from the gasps of wonder and surprise to the laughs and inspiration. Here are some tips to make the most out of your experience.
1. Do your research
Is this artist or show right for your family? Consider the show length, content, and if the production will have bright lights, strobes, loud sound effects, smoke, mature language, etc.
"It's important to select a show appropriate for the youngest family member, if everyone will attend together. Shows with material too mature for smaller children can make the entire performance too long for everyone," advises Erin Kirkland, an expert on activities for children and author of AK on the Go.
Some Anchorage Concert Association shows are created for all ages. Some artists perform music that younger audiences will enjoy. Some shows are geared toward adults but welcome children. Some shows have content that may not be suitable for all ages. Research the artist or show to determine what is right for your family.
Online reviews and artist interviews can give an idea of what the show will include. You also may call Anchorage Concert Association (907-272-1471) or the CenterTix box office (907-263-2787) to find out more information about Anchorage Concert Association shows.
Many productions require every person, including infants, to have a purchased ticket.
"With our teen, we like to do one-to-one nights with just one parent and one kid attending a show we know our son really wants to see," adds Kirkland. "Anchorage Concert Association posts show announcements so far in advance it's easy to plan for special occasions like birthdays or Christmas."
2. Prep the fam
Help prepare young theatre goers by talking with them about theatre etiquette. Alaska Center for the Performing Arts (aka the PAC) says, "Live performances are special because you get to experience something as it is being created and as part of a larger audience."
The PAC recommends "not talking during the show (appropriate applause and showing appreciation is certainly okay!), refraining from kicking the seat in front of you or putting your feet on the seat, and not using electronic devices during the performance – think of live performances as a vacation from personal devices!"
Kirkland also suggests that "parents look for a pre-show comparison before heading to the live performance. Is there a book or selection of songs they might explore together first? This can make a live show more meaningful when kids have a frame of reference to tie in."
3. Enjoy the show!
Booster seats, available at the PAC, can help smaller patrons see. Ear plugs can help those with sensitive ears (ear muffs and headphones can also quiet loud concerts).
"Younger children might need more breaks during a longer performance. Consider purchasing seats near an exit, if possible, making it easier to slip out if/when needed," advises the PAC.
While only bottled water is allowed in the theatres at the PAC, attendees can pre-order snacks and beverages before the show to be available at intermission and enjoy in the lobby.
If you have concerns about disruptive patrons near you, please speak with an usher. They can help address your concerns.
"Live performances, concerts, and other fine arts events are so critical for kids," says Kirkland. "The arts are a valuable part of their overall development, and seeing their eyes light up when actors or musicians appear on stage is magical."
More tips, resources and ideas
BroadwayGirlNYC: Taking Kids to the Theatre
More information from the Alaska PAC
Changing tables are located in several restrooms throughout the PAC – ask an usher for directions to the nearest location.
Breastfeeding is welcome throughout the building. If you need a private location please speak with the House Manager. They will make any possible accommodations.
Assistive listening devices are available for use (children and adults) at the House Manager podium in the orchestra level lobby. More about accessibility at the PAC.
A few organizations with family friendly shows
And many more! Look for shows on CenterTix and wherever you learn about entertainment events near you.
See you (and your little ones) at the theatre!